Currently browsing the "
Toni Servillo

" tag.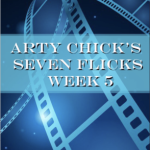 This week's picks include a healthy dose of Roman decadence, an obsessive and tragic snoop, a ghostly romance, a grieving mother on the warpath, violent union busting, food to die for, and a woman who's brutally honest about sleeping her way to the top. Something for everyone! One is from Italy, another from Germany. There's a Korean flick and a Danish one, too. And three of them are Oscar winners.
This week's picks are: La Grande Bellezza; The Lives of Others; Truly Madly Deeply; Mother; Matewan ; Babette's Feast; Baby Face
One of the five films nominated for the Best Foreign Language Oscar, The Great Beauty is an amazingly wonderful dip into the pool of modern Roman decadence. The story is told from the perspective of Jep Gambardella (Toni Servillo), a journalist who turns 65 at the beginning of the film, and who despite being known for his great first novel decades earlier, is still searching for his inspiration for a second. The film owes a great debt to Fellini. You cannot help but think of La Dolce Vita and 8 1/2, but Jep is much more world weary than Marcello, and the movie is much more than mere homage. It has some of the most striking imagery of any recent film. And if you love Rome, this is a must see!