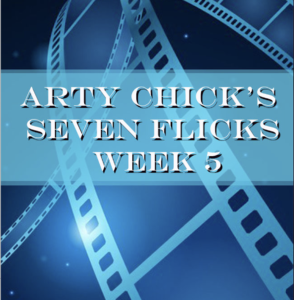 This week's  picks include a healthy dose of Roman decadence, an obsessive and tragic snoop, a ghostly romance, a grieving mother on the warpath, violent union busting, food to die for, and a woman who's brutally honest about sleeping her way to the top.  Something for everyone!  One is from Italy, another from Germany. There's a Korean flick and a Danish one, too. And three of them are Oscar winners.
This week's picks are:  La Grande Bellezza; The Lives of Others; Truly Madly Deeply; Mother;  Matewan ; Babette's Feast; Baby Face
29. La Grande Bellezza (The Great Beauty) (2013)(Italian)
The Great Beauty is an amazingly wonderful dip into the pool of modern Roman decadence. The story is told from the perspective of Jep Gambardella (Toni Servillo), a journalist who turns 65 at the beginning of the film, and who despite being known for his great first novel decades earlier, is still searching for his inspiration for a second. The film owes a great debt to Fellini. You cannot help but think of La Dolce Vita and 8 1/2, but Jep is much more world weary than Marcello, and the movie is much more than mere homage. It has some of the most striking imagery of any recent film. And if you love Rome, this is a must see!
(Here's the link to my full review)  It won the Oscar for Best Foreign Language Film.   
30. The Lives of Others (2006) (German)

 
This utterly absorbing drama is set in 1984 East Berlin. Captain Gerd Wiesler, a STASI agent (the notoriously brutal secret police) sets up surveillance in the apartment above a young couple, a writer and his girlfriend who happens to be a famous actress that the Minister of Culture has eyes for. Wiesler listens in to the couple's every conversation. But as he learns more and more about them he finds himself becoming increasingly absorbed by their lives and begins to care about their safety, eventually risking his own career for them. It's an edge-of-your-seat nail biter.
Ulrich Mühe is amazing as the secret police agent. It's a film that you won't soon forget. Great filmmaking on every level!
The Academy agreed. It won the Oscar for Best Foreign Language Film.  
31. Truly Madly Deeply (1990)

 
Ghost stories can be hard to pull off without getting cheesy (Ghost), but this one works so well, probably because that haunted spirit is played by the talented Alan Rickman. (I wish he'd be a ghost in my house.) And it's a beautiful love story with a lot of humor.  In it Jamie (Rickman) and Nina (Juliet Stevenson) are a happy couple. But he dies suddenly and she's devastated and unable to deal with life on any level. He comes back because he loves her deeply, and he can't move on until she is happy again.  The film has a wonderful score. Jamie was a cellist. And the chemistry between the leads feels so authentic. Stevenson who's known more as a character actress than leading lady is amazing. She won the BAFTA Best Actress award for her role.
It's probably the best movie out there about grief and moving on. Have a stash of Kleenex on hand. You'll need them.
It was Director Anthony Minghella's (The Talented Mr. Ripley, Cold Mountain) first feature and originally shown as a BBC television movie.
32. Mother (2009) (South Korean)

 
This fabulous Korean thriller is from Bong Joon Ho (Parasite, Snowpiercer). The central character is a single Mother who works in an herb store and gives illegal acupuncture treatments on the side. As the film begins she is in her shop keeping watch over her 27-year-old son Do-joon who is not right in the head and spends most of his time running around getting into trouble.
That night, he goes out alone and gets drunk. The next day, a girl is found murdered, and witnesses say they saw him following her. He's arrested and Mother knows he didn't do it, but no one believes her, so she goes looking for the truth. This thriller is played pretty low key and straight (though there are flashes of comedy throughout), and there are many places that make you hold your breath or jump from your seat. And by the time you get to the end, your perceptions have been churned to pulp.  
(Here's a link to my full review) 
33. Matewan (1987)

 
I love John Sayles' movies and this is one of his best.  Based on the true story of a violent dispute in 1920 between a coal company and the West Virginian miners who are tried to form a union, it stars Chris Cooper, James Earle Jones, Mary McDonnell, and David Strathairn. When the miners strike, the coal bosses call in thugs and hire Black and Italian scabs. But when a United Mine Workers organizer (Cooper) tries to bring them all to the table, the carnage is epic. 
Sayles (Brother from Another Planet, Eight Men Out, Lonestar) was one of America's best indie filmmakers back in the 80s and 90s, and I wonder what happened to him.  His films often tackled political or social issues without being preachy.  And I wish he was still at work.  Matewan is beautifully photographed by the master cinematographer Haskell Wexler who garnered an Oscar nomination for it.
34. Babette's Feast (1987) (Denmark)

 
This is one of the most beautifully shot films and a foodie's dream. It takes place in the late 19th century Denmark in a strict religious community. The village takes in a French refugee from the Franco-Prussian War and she agrees to work as a maid and cook to the late pastor's daughters. But when she wins the lottery, after years of the sisters'  kindness, before she returns to France she wants to repay them with a French meal to honor their father's 100th birthday.
The preparation of the meal is loving and so much fun. Babette orders all sorts of ingredients that the village has never seen and with each delivery, their curiosity is piqued. They've always followed strict rules and they usually do not show any pleasure when it comes to food, but as the feast progresses they just cannot help themselves. It's the most amazing meal ever filmed. Her food is not only delicious, it awakens the village to a kind of sensual feeling, not all that divorced from a religious awakening, that they had denied themselves. No one comes away from the table the same.  I LOVED this film.
It's an adaptation of  a short story by Karen Blixen (aka Isak Dinesen) and also won an Oscar for Best Foreign Language Film.
35. Baby Face (1933)

 
This one was a complete surprise to me. It was made before the censors started dictating the morality of Hollywood films. In this pre-code drama a young woman (Barbara Stanwyck) who has been sexually exploited by her father from an early age, leaves home after his death when the speakeasy he owns explodes from a faulty still. She has nothing but the goal of using her sexuality to her advantage. Once in the big city, she settles on a group of men at a big bank, and beginning with the men at the bottom of the rung, she literally sleeps her way to the top. Of course there is one man who see through her cavalier attitude and try as she might to pretend she doesn't care, and she marries him, only to leave him at the curb when he loses his money. But it doesn't end there.
Barbara Stanwyck is amazing. So is the man who wins her heart George Brent who was Bette Davis's favorite leading man. This film feels very modern in its treatment of women's sexuality. One of the most memorable scenes is before she leaves home, when she talks with a man in the speak-easy who tells her: A woman, young, beautiful like you, can get anything she wants in the world. Because you have power over men. But you must use men, not let them use you. You must be a master, not a slave. Look here – Nietzsche says, "All life, no matter how we idealize it, is nothing more nor less than exploitation." That's what I'm telling you. Exploit yourself. Go to some big city where you will find opportunities! Use men! Be strong! Defiant! Use men to get the things you want.
ENJOY AND CHECK BACK NEXT WEEK FOR PART 6!
All of these are streaming and some of the older ones you can find at your library.
And in case you missed them, here are the links to the previous weeks: Week 1, Week 2, Week 3.  Week 4