Currently browsing the "
Toshirô Mifune

" tag.
What are you streaming this week? When the COVID-19 pandemic began, I started a list on my Facebook page, posting a film I love every day. That list has grown, and is still growing, edging up past 150 films. It is getting a little harder to choose a new film. But I've remembered a lot of great movies that I've watched over the years and they span all genres and eras. And sometimes one film will remind me of another or an actor that I'd forgotten. I've stayed away from the last decade because there are a million "best of" lists that included them. These are films that have stayed with me. Some are obscure, and some no doubt skew to my more "arty" taste. But I am sure you'll find something to watch that will fill that pandemic hole. I'll be posting them in batches of 7 each week, until I have nothing more to say. That could take a while.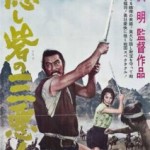 The Hidden Fortress may not be one of the most well known of Kurasawa's films, but it is a wonderfully entertaining mix of adventure, comedy and drama. It opens with two bedraggled peasants wandering the countryside bemoaning their fate. This is Japan during its feudal period, and these two thought they would go into a clan war to make a fortune, but got there too late and were taken prisoner and forced to dig graves for the war dead. Now they are headed home penniless. But in a stroke of luck, they discover that there is a big reward for locating the defeated Akizuki clan's Princess Yuki and the gold she took with her, and they set out to find her only to stumble upon a stick with a piece of gold inside. When they start looking for the rest of it they run into another man (Toshiro Mifune) who tricks them into joining forces. But he is not who they think he is. He is in fact the great General Rokurota Makabe who is guarding Princess Yuki and her gold.