What are you streaming this week? When the COVID-19 pandemic began, I started a list on my Facebook page, posting a film I love every day. That list has grown, and is still growing, edging up past 150 films. It is getting a little harder to choose a new film. But I've remembered a lot of great movies that I've watched over the years and they span all genres and eras. And sometimes one film will remind me of another or an actor that I'd forgotten. I've stayed away from the last decade because there are a million "best of" lists that included them. These are films that have stayed with me. Some are obscure, and some no doubt skew to my more "arty" taste. But I am sure you'll find something to watch that will fill that pandemic hole.  I'll be posting them in batches of 7 each week, until I have nothing more to say. That could take a while.
1. The Red Balloon (1956) came out the year I was born, though I saw it later when it was being shown in schools, I think. Even though it is a French film and was a short (just 34 minutes) it won an Academy Award for Best Original Screenplay, the only time that ever happened.
It's a master class in storytelling. Very little dialogue, great visuals, and a funny, heartwarming plot. It's the story of Pascal, a little boy who meets a balloon that decides to follow him around Paris – to school, on the bus, home. It gets him in trouble of course, but they have a beautiful friendship. If you and your kids never saw this one, put it on your list. You'll all love it.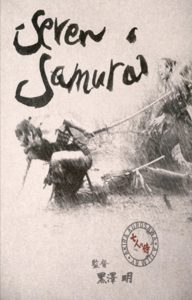 2. Seven Samurai (1954) is the quintessential Samurai movie. It stars the iconic Toshirô Mifune as a down on his luck samurai who comes to the aid of a village under attack from a group of bandits. And it's directed by one of the greatest directors ever, Akira Kurosawa.
Kikuchiyo is wandering the countryside when he comes into a village that has been attacked by bandits. He's talked into helping them and finds 6 other samurai to join him in training the townspeople to defend themselves.
If that sounds familiar, you might also know the American version called The Magnificent Seven that starred Steve McQueen, Yul Brenner, and Charles Bronson, among others. Or perhaps the newer version with Denzel Washington, Chris Pratt, and Ethan Hawke. Those are good, but the original is GREAT!
3. Galaxy Quest (1999) is one of those comedies that never gets old. It has a fabulous cast including Tim Allen, Sigourney Weaver, Alan Rickman, Sam Rockwell, and Tony Shaloub. The film's premise is that they're all actors in a silly 1970s television show about space travel, like Star Trek. But a group of naive aliens on a planet far far away have been watching it and think it's a documentary rather than fiction, and seeing them as real space heroes, they come to earth to ask for their help to save their planet from doom. They have a replica of the ship used in the show just waiting for them in space. And they expect them to do just what they did on the show. And they rise to the occasion.
It's funny and heartwarming. One of my favorite moments in the film is when two characters have to get through a part of the ship called "the chompers" to save the ship from exploding, and Gwen (Sigourney) says,"What is this thing? I mean, it serves no useful purpose for there to be a bunch of chompy, crushy things in the middle of a hallway. No, I mean we shouldn't have to do this, it makes no logical sense, why is it here?" And Jason (Tim Allen) tells her,"Cause it's on the television show." And she yells, "Well forget it! I'm not doing it! This episode was badly written!"
Fun trivia: Back in 2013, Star Trek fans were asked to list all the Star Trek movies in their order of preference. There were, at that time, 12. Galaxy Quest (not a Star Trek movie) came in 7th! This one is for the whole family.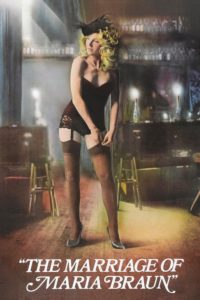 4. The Marriage of Maria Braun (1978) (German) is a film I remember for introducing me to the fabulous Hanna Schygulla, one of Germany's greatest modern actresses. It's also directed by one of the greats of New German Cinema, Rainer Werner Fassbinder. The film follows a woman climbing from the ashes of WWII and refusing to be bent to anyone's will. It's an early #girlpower film.
Maria is married to a soldier and believes he's dead, but after she remarries, he comes home to find her with the new husband and in the ensuing fight, she accidentally kills the new guy. But the first hubby takes the blame. To make ends meet while she waits for him to get out of prison she becomes a rich man's mistress, knowing it is only a temporary situation.
It's a tragic love story, unbelievably well told.
5. Salvador (1986) was Oliver Stone's first major feature film. And I think it is still one of his best. James Woods stars as a down on his luck photojournalist who heads down to El Salvador in 1980 to hang out with his old stoner friend played by Jim Belushi. But when he begins to see what is happening in the country and what could happen to his girlfriend and her children – genocide, death squads, assassinations – he's moved to act, putting his life on the line.
The film is based on real life photojournalist Rick Boyle's experience. He also co-wrote the Oscar nominated script with Stone. As with all Oliver Stone films, it is highly political. In the Salvadoran Civil War the US backed the government thugs because the left-wing rebels were seen as communists. And if you remember any of the history of that time, it's when the military killed four nuns and assassinated the hugely popular Archbishop Oscar Romero because he spoke out about what was going on. Both of these incidents are part of the narrative of the film.
It's one of James Woods's best performances. And the script is thankfully funny at times but also scary as hell, since Boyle and his friends have to be on alert every moment not to do something that gets them killed.
6. The Man Who Would Be King (1975) is based on a Rudyard Kipling short story, and stars Sean Connery as Daniel Dravot and Michael Caine as Peachy Carnahan, a couple of grifter ex-British Army officers in late 19th-century India who go looking for adventure and end up in remote Kafiristan (part of Afghanistan). They fight bandits, survive blizzards in the Khyber Pass and find local a translator who helps them get a gig training locals in modern warfare. And when they lead the force into battle against the neighboring village, Dravot miraculously survives being shot by an arrow and is thought to be a god. And when they see his Masonic necklace with a symbol of Alexander the Great, who prophecy predicted would send a son to rule over them, they make him King.
He and Carnahan are shown to the palace and they're in heaven. Dravot takes to being a monarch, issuing edicts and settling scores. Carnahan is made chief of the armed forces and the treasury chamber, which just happens to be chock full to the brim with riches beyond their wildest dreams, Carnahan though wearies of life in the hinterlands and suggests they fill their pockets and leave the place, but Dravot has become intoxicated by his power and refuses. Of course the deception can't last forever.
Connery and Caine play off one another perfectly and the film is equal parts comedy, adventure, and buddy movie.
7. In The Loop (2009) is the perfect political film for right now. When I saw it in 2009 I had this to say: "If there were an Academy Award for the best profanity laden insults in a film, it would be the winner hands down. There are more barbs thrown in this movie than any other I can remember. But they are wickedly written and perfectly delivered in one of the most taut political comedies I have ever seen. You really have to listen to the dialogue and keep up with a fast paced story.
It is set in the British and US diplomatic circles and concerns a rush to war somewhere in the Middle East precipitated by an off hand remark made by British Secretary of State for International Development, Simon Foster. He is on a talk show discussing aid and mentions a "war on disease," when the interviewer asks him out of the blue if he is for war. He is thrown and answers that war is "unforeseeable" which is immediately spun by those who want a war as the Prime Minister endorsing the idea. The Americans jump on it, too, with State Department hawks and doves each trying to use him to push their aims. Next thing he knows he is in Washington."
This film has a fabulous cast including James Gandolfini, Tom Hollander, Anna Chlumsky, and Peter Capaldi.
ENJOY AND CHECK BACK NEXT WEEK FOR PART 2!
All of these are streaming and some of the older ones you can find at your library.