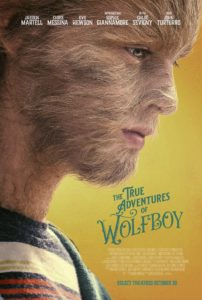 In this oddball coming of age tale, Paul (Jaeden Martell, Knives Out, IT) is a kid just turning 13. He lives in rural New York with his dad, but has more than the usual teenage problems. He suffers from congenital hypertrichosis, a condition that has him covered in hair, and makes him the target of every bully in town. All he wants is to be normal and be left alone, but that's impossible given his wolf-boy appearance, so most of the time he wears a ski mask to hide his face. But on his birthday, he receives a letter from his estranged mother, runs away to find her, and instead finds the courage to be himself.
Lacking the funds to get to Pennsylvania where she lives, Paul accepts a demeaning job at the circus in town, but ends up burning it down, angering Mr. Silk (John Turturro, Do the Right Thing, Gloria Bell) the owner who vows to track him down. As he is escaping he meets a trans girl, Aristiana (Sophie Giannamore), who sings in a gay bar and bonds with him over being outsiders. On his trek he also meets Rose (Eve Hewson, Tesla, Bridge of Spies) who enjoys robbing convenience stores, keeping them just ahead of the law as they make their way west towards Mom. Since Dad also called the cops to help with his runaway son, there's a cop on his trail.
It's through his odyssey that he's finally able to be himself. His new friends accept him just as he is because they understand being "othered". The three of them make quite the trio, and Mr. Silk is a perfect menacing villain. It's a story that could have felt like a silly cliche, but the characters are very well drawn and the story gives them space for the small moments that define them. All three of the young actors do an exceptional job, but Martell is particularly good as he gains in the confidence that it takes for his transformation.
The True Adventures of Wolfboy would be a great flick to watch with your teenagers, be they the bullies or the preyed upon, or even the rest of them who just feel like they want to fit in.
Streaming on all the major platforms.
[Note: For Mainstream Chick's take on The Adventures of Wolfboy, check out this episode of the Cinema Clash podcast!]