Currently browsing the "
trilogy

" tag.
Don't worry Star Wars junkies. You'll love The Last Jedi. Problem is, I'm not a Star Wars junkie – I'm just a casual fan – so (gasp!), I wasn't as blown away by "Episode VIII" as the somewhat Comic-Con-obsessed crowd that I saw it with. Not that I didn't enjoy most of my two-and-a-half hour visit to a galaxy far, far away. I just happened to like 2015's nostalgia-fueled The Force Awakens a bit more. The Last Jedi picks up right where that one left off. The franchise's young new heroine Rey (Daisy Ridley) finds herself on a distant planet, face to face with the elusive Jedi master Luke Skywalker (Mark Hamill). She's there to return his light saber, get some Jedi training, and convince him to rejoin the Resistance led by his sister, Princess/General Leia Organa (the late Carrie Fisher). You know the rest. I'm just kidding. You don't, unless you've seen the film or read the spoilers. I'm not enough of an expert to know what constitutes a spoiler, so I'll just err on the side of caution and keep it brief.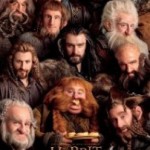 Are you ready for a return to Middle Earth? If you eagerly answered 'yes' to that question, then every review – including this one – is moot. You should see The Hobbit. Chances are, you'll enjoy the movie and spend countless hours with your fanboy and fangirl friends debating the merits of the story, the scenery, the frame rate, and how it all plays into the entire mythology of the Lord of the Rings universe. If you don't know a Gollum from a Gandolf – and don't care – then you can probably skip The Hobbit, the first of a three-part prequel to the blockbuster Lord of the Rings trilogy. Either way, it'll do just fine at the box office. With or without you.