Currently browsing the "
tsunami

" tag.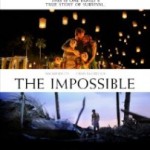 You'll need the tissues for this one. Seriously. It's nearly impossible not to cry watching The Impossible. The movie is gripping and intense, horrifying and uplifting- all at once. It's based on the true story of a family literally torn apart by the Indian Ocean tsunami that killed more than a quarter million people in 2004. The Impossible seeks to humanize the enormous catastrophe by focusing on this one family's plight. It's hard to watch. But it's even harder to look away.
The trailers and marketing for Hereafter are very misleading. It's no more a "Matt Damon movie" than Babel was a "Brad Pitt flick". In fact, until Damon's character makes an appearance, you could easily mistake Hereafter for some sort of independent foreign film. It's very much an ensemble effort, spearheaded by director Clint Eastwood, and it features three diverse plot lines that ultimately converge in a somewhat contrived but generally satisfying way.