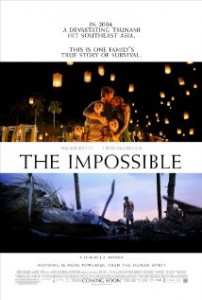 You'll need the tissues for this one. Seriously. It's nearly impossible not to cry watching The Impossible. The movie is gripping and intense, horrifying and uplifting- all at once. It's based on the true story of a family literally torn apart by the Indian Ocean tsunami that killed more than a quarter million people in 2004. The Impossible seeks to humanize the enormous catastrophe by focusing on this one family's plight. It's hard to watch. But it's even harder to look away.

Naomi Watts and Ewan McGregor play a couple who take their three boys to a remote tropical paradise in Thailand for Christmas vacation. Without warning, their resort – and all that surrounds it – is hit by a wall of water that sweeps away everything in its path. The mother, Maria (Watts) is severely injured but manages to find her oldest son, Lucas (Tom Holland) in the midst of the mayhem. They have no idea what's happened to the father, Henry (McGregor) and the two youngest boys, Thomas (Samuel Joslin) and Simon (Oaklee Pendergrast). They can't afford to stop and think about that. Their own survival is far from guaranteed. Meantime, Henry is desperate to find out what's become of Maria and Lucas. Their respective journeys – to survive and reunite – hinge on a mix of luck, love, courage, perseverance and the kindness of strangers.
The story is compelling and the cast is terrific. But The Impossible could be a hard sell this time of year. It's sure to reduce any parent – and anyone who's ever gone on a family vacation – to tears. The movie ends on a positive note, but to get there, you have to endure one heart-wrenching moment after another. So just make sure you know what you're in for – and don't forget the Kleenex.