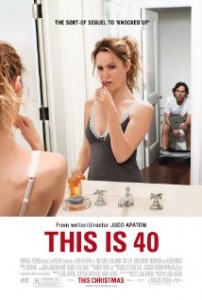 Writer/director Judd Apatow's midlife crisis comedy This is 40 is not that funny, or even that good – especially for a movie that the studio has been touting for major awards consideration. Best Picture? Seriously?! I'm a firm believer in the whole 'write what you know' philosophy. But in this case, art imitating life isn't much fun to watch – even if you're the target demographic: a happily or unhappily-married 30 or 40-something with kids. If you're looking for validation or commiseration, you'll certainly find that here. But if you're looking for a cinematic escape, pick something else (scroll through our site – there's lots to choose from!).

This Is 40 is a semi-sequel to Apatow's 2007 comedy hit Knocked Up, with two of the supporting characters stepping into the lead. A few years have passed, and married couple Pete (Paul Rudd) and Debbie (Leslie Mann) are both turning 40. The mid-life milestone sets the stage for somewhat honest reflection on where they are, where they've been, and where they want to go – as individuals, as a couple, and as a family. The results are a mixed bag of crude, gross, charming, funny and dumb.
The 'plot' is daily life and the dramedy found within: navigating the challenges of sex, romance, financial woes, job satisfaction (or dissatisfaction) and parenthood. The couple's two kids, ages 8 and 13, are played by Apatow's real-life daughters. They are typical siblings, prone to all the usual battles, bonding, and growing pains. They are also smart enough to know that their parents have issues. As do their grandfathers, played by Albert Brooks and John Lithgow, great character actors who don't have much to work with here.
This Is 40 is rated 'R' for crude humor, pervasive language, sexual content and some drug use (by the parents). It's not bad, but it doesn't quite find – or sustain- the right balance between funny and real. It's like one of those SNL skits that starts off with great promise, but goes on too long. Perhaps if it were 90-minutes instead of two-hours-plus… but, alas, it's not.
4 Comments
Leave a comment