Currently browsing the "
Will Patton

" tag.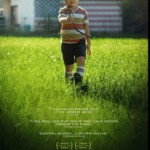 Minari had its world premiere at the Sundance Film Festival in January of 2020. It won both the U.S. Dramatic Grand Jury Prize and the U.S. Dramatic Audience Award. In October, it won the audience award for Best Narrative Film at the Middleburg Film Festival, as well as the MFF's Ensemble Cast Spotlight Award. Over the next few months, I fully expect it to make the cut in most every major awards category. And if the success of Parasite is any indication, Minari has a real shot at winning. It's a foreign film, an American film, an arty film, and a mainstream film all rolled into one. In English and Korean, with subtitles.
What?? You've never even heard of the Hawaiian princess Victoria Kaʻiulani Kalaninuiahilapalapa Kawekiu i Lunalilo Cleghorn? Well, frankly, neither had I. But she does have an interesting life story that is told – and acted- fairly well in this arty indie flick, though it takes a half-hour or so to really get into it. It's a rather strange hybrid of a movie – part biopic, part epic romance, and part docudrama with some scenes that are reminiscent of those cheesy historical reenactments found in documentaries we all watched in grade school (or at the museum). It also features some gorgeous cinematography showcasing the natural beauty of Hawaii.