Currently browsing the "
Zootopia

" tag.
It's that time of year – when friends, family, and strangers in the elevator ask, "Hey, Did you see [fill in the blank]? Is it any good? What's your favorite movie of 2016?" Well, here I attempt to answer those questions as succinctly as possible — with a countdown of my top ten movies of the year (12 if you count the ties), as well as a bunch of honorable mentions. They are films that resonated for one (positive) reason or another and represent a broad range of genres. Check 'em out!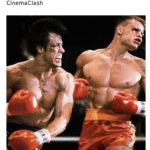 Check out my latest podcast with Charlie Juhl. This week, Charlie and I clash over Zootopia, London Has Fallen, and Whiskey Tango Foxtrot. He thinks my tastes are shallow. I think his are pretentious. Take a listen, and let us know what YOU think!