Posted by Ellen Carl aka Adventurous Chick on July 1, 2009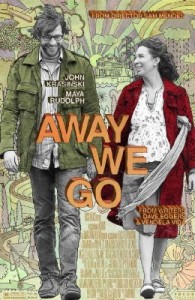 I really enjoyed going along for the ride with Away We Go. Maya Rudolph and John Krasinski, who both give great performances, play Burt and Verona, a long-time couple about to have a baby. They live in Colorado to be near Burt's parents. But when his parents suddenly announce they're moving to Belgium, Burt and Verona realize they don't have to stay there either. The question is: where should they go? They set out to answer it by visiting friends and family across the country and in Canada.
Their journey is fueled by 30-something angst. They've reached that point in life when you realize, holy crap, you've got to grow up. At one point Verona says to Burt "Are we fuck ups?" He reassures her that they're not but she's not convinced, "I think we might be fuck ups." But they both realize they've got to find their own place in life and put down some roots. Their trip is at points funny – a visit to Burt's "cousin" Ellen, who now goes by LN, and her partner Roderick, who have some very "new age" ideas about parenting – and at times poignant – a night out with old colleges friends who seem to have it all, a big, loving family of adopted kids in a great house in a great city, but who would give anything to have a biological child and are working so hard to keep it all together. In the end, of course, they find their place and solidify what they already know, that their home will always be with each other.
Away We Go is definitely a good chick flick – a few laughs, a few tender moments, a good story, good performances from an excellent cast including Maggie Gyllenhall, Jeff Daniels, Catherine O'Hara and Allison Janney. I'd highly recommend it if you can still find it in a theater near you. Otherwise, definitely rent it when it's out on DVD.
1 Comments
Leave a comment