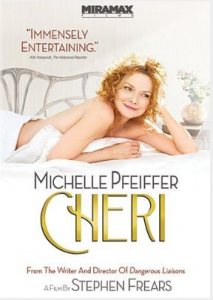 I heard about Chéri when it was around, but being in small town USA, it was only here for an instant and I missed it. Fortunately, it is now on DVD and it is a great chick flick, especially for women over 35. 50+ and still ravishing, Michelle Pfeiffer is lovely playing Léa, a courtesan of a certain age in Belle Époque Paris. Rupert Friend (Albert in The Young Victoria) plays Chéri, the 19-year-old son of one of Léa's old courtesan rivals (Kathy Bates). He has known and loved Léa since childhood, and when his mother needs someone to talk to him about his directionless life, she calls Léa.
Léa has just ended her last affair and is contemplating leaving the courtesan life behind and retiring in great style. She invites Chéri to come to her house in Normandy to get away from it all with her and they fall in love. He stays with her for six years until his mother, wanting grandchildren, arranges a marriage with the daughter of another courtesan. Being ripped apart sends them both into despair; Léa heads to Biarritz to try and move on while Chéri is on his honeymoon in Italy, but neither can get over the other. When Léa finally returns to Paris, Chéri comes to her, but only for her to talk him into doing what must be done and return to his marriage.
Chéri is adapted from the novel by the Colette, who no doubt based it on her own scandalous affair with her stepson. The period it is set in is one of great excess where the "famous" courtesans lived a life that makes the celebrities of today look downright modest. The clothes, houses and locations in the movie are gorgeous, especially Léa's Art Nouveau home in Paris.
Directed by Stephen Frears (Dangerous Liaisons, The Grifters), Chéri is both very funny and quite sad, just the right balance for a romance. Rent it and stay in with a nice bottle of French wine.
Chéri was released in 2009.