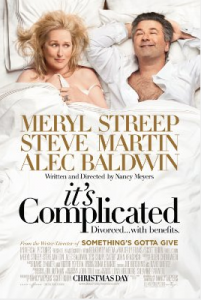 It's Complicated is a good, solid chick flick – a romantic comedy with two endearing leads in Meryl Streep and Alec Baldwin. It's also the tamest 'R' rated movie I think I've ever seen. I'm told the rating had something to do with the inclusion of a pot-smoking scene, which is ironic since unlike The Hangover or Pineapple Express, I highly doubt anyone younger than 40 will attempt to sneak into this one! It's purely an adult movie with adult themes and humor. Streep plays Jane Adler, a successful, attractive middle-aged divorcee who hooks up with her married ex-husband Jake (Baldwin) while celebrating their son's graduation from college. Jane and Jake embark on a clandestine affair known only to their soon-to-be son-in-law Harley (played with scene-stealing appeal by The Office's John Krasinski).
Jane is conflicted by the whole affair – constantly questioning her own motives as well as Jake's – yet reveling in being the other woman for a change (payback's a bitch, eh?). Jake has no real qualms about cheating on his wife – the taut, young(er) woman that he left Jane for 10 years earlier. Jake finds himself fully embracing his mid-life self – stomach flab and all – and virtually obsessing over his ex.
Complicating matters even further – Jane starts dating the nice-guy architect Adam (played by a painfully miscast Steve Martin) who is remodeling her house. Does she give this budding relationship a real chance, or risk it all on a second-chance at love with Jake? Hmmmm…
It's Complicated was written and directed by Nancy Meyers (The Holiday, Something's Gotta Give, What Women Want, etc.) a Hollywood powerhouse who caters to the oft-underserved audience of mature women. And that's exactly the audience that will enjoy this movie most.