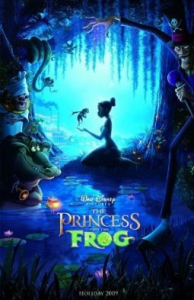 I finally had the chance (i.e. excuse) to see this movie when my 10-year-old niece decided she wanted to see it for a second time. After all, there's just something intrinsically appealing about a good ol' fashioned, hand-drawn Disney princess fairy tale and the promise of a "happily ever after." The Princess and the Frog follows the standard formula of the princess classics, but with a few modern twists. Our heroine is a hard-working, African-American waitress named Tiana (voiced by Anika Noni Rose) who dreams of opening her own restaurant in the great city of New Orleans. Her fate gets tied, however, to that of an arrogant, lazy Prince named Naveen (Bruno Campos) who's been turned into a frog by a sinister (and potentially scary to little kids) voodoo doctor. When Tiana kisses the frog and becomes one herself, she and Naveen hop along the bayou in search of a mystical woman who may be able to make them human again. Along the way, they befriend a cajun firefly and a trumpet-playing alligator and of course, fall in love.
The movie is not perfect, by any means. It treads dangerously close to some potentially negative stereotyping. And it lacks the big, memorable music numbers of Cinderella, Aladdin, The Little Mermaid and the like. But it's nice to see Disney add a black Princess to its royal roster, and the movie does have a delightful, toe-tapping soundtrack, especially if you like jazz and blues. You may not remember the songs next month, but you'll enjoy yourself in the moment – along with the little princesses in your life.
No Comments Yet
You can be the first to comment!
Leave a comment