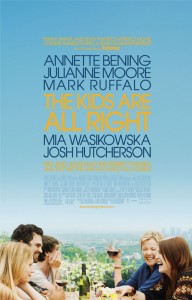 The Kids Are All Right is one of the smartest, funniest films of the year. Annette Bening is pitch perfect as the alpha-mom of the movie and really should get an Oscar for her performance. Which is not to say that the rest of the cast (Julianne Moore, Mark Ruffalo, Mia Wasikowska, and Josh Hutcherson) are less than fabulous; this talented ensemble keeps you laughing from beginning to the end. (Okay, there are a few moments that are more serious, but fear not! They are few.)
The premise is pretty simple. Teenagers Joni and Laser, born to a lesbian couple, decide to find their sperm donor father Paul, and it throws an enormous wrench into their seemingly normal family dynamic. Nic (Bening) is a doctor and the bread-winning, solid partner in the relationship. Jules (Moore) is more a child of the sixties, never-finish-anything type, and her latest venture is a landscape design biz. Joni is about to head off to college and Laser is going through a typical teenage rebellious phase.
Enter Daddy Paul, restaurateur and organic farmer, who seems to float through life and hasn't even thought of settling down and having a family, but embraces the kids immediately ("I love lesbians!"), even if they are a bit more reserved than he is about their relationship. The moms, particularly Nic, are not so quick to accept him, but a "family" dinner thaws things a bit and Paul hires Jules to landscape his back yard.
Paul's presence shakes up everything. He is able to affect the kids in ways the moms couldn't. And when he "falls" for Jules, her job landscaping his backyard becomes a lot more "complicated," nearly wrecking her marriage. But in the end, the kids are all right and the moms, too.
The script for The Kids Are All Right is excellent on so many levels; the dialogue is amazingly witty, the characters very well developed and believable, and the situations set up the perfect amount of tension. Writer/Director Lisa Cholodenko (High Art) gives us an episode in one family's life that is at once very humorous and very honest. And Annette Bening's reactions alone are worth the price of admission.
I was so happy to see that the filmmaker did not let this story fall into lesbian clichés. In fact, there was nothing that made this family's dynamic different from other film families at all except that there were two moms. The teenagers had the same struggles. The moms had the same issues all couples do. And frankly, with a bit of a tweak, this could have just as easily been a story of a hetero couple. But it would not have been half as good because Bening and Moore were perfection! I'd recommend The Kids Are All Right for anyone who likes a great comedy of the grown-up variety.