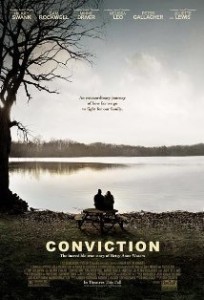 'Tis the season of movies based on real events. 127 Hours, Fair Game, Secretariat, and yes, Conviction – a movie that sets the bar for sibling devotion.
Hilary Swank plays Betty Anne Waters, a young woman who is so convinced that her brother's been wrongly convicted of murder that she gets her GED, goes to law school, and spends nearly 20 years fighting the system for her brother's release. Victory doesn't come without some major sacrifices. The journey is a long and personal one filled with setbacks and doubts as Betty Anne retraces the steps that led to her brother's arrest and embarks on a near-impossible search for evidence, old and new.
Waters is relentless in her efforts, even when her imprisoned brother encourages her to throw in the towel. With the help of her best friend, Abra Rice (played by Minnie Driver, who looks amazing by the way) and eventually, Innocence Project lawyer Barry Scheck (the king of exoneration through advances in DNA testing), Betty Anne uncovers the truth and gets her brother his (new) day in court. And it only took 18 years! Score one for us little sisters!
Conviction is sort of an edgy Erin Brockovich. It's rated R, but I'd call it a 'soft R'. It doesn't get terribly violent and I only recall one brief butt shot, so I'd give it more of a PG-13+ rating. Two-time Oscar winner Swank does an admirable job as Betty Anne and could very well get another nomination out of the role. But I was actually far more impressed by Sam Rockwell's performance as Betty Anne's older brother, Kenny, who walks the fine line between endearing, mischievous and potentially murderous.
Conviction has some obvious holes, especially when it comes to the intricacies of the courtroom. In many ways, it's a family drama more than a legal drama, and if it weren't based on a true story, it probably wouldn't resonate near as much. But somehow, knowing that there really is a Betty Anne Waters who really did go to the mat for her brother makes this a bittersweet, root-for-the-underdog movie that will play well on DVD if it gets lost in the sea of Fall flicks. Conviction is good, but 127 Hours is better.
No Comments Yet
You can be the first to comment!
Leave a comment