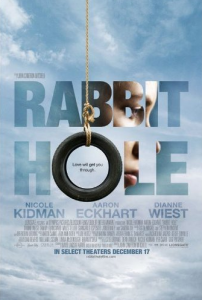 Rabbit Hole is a decent but not very deep drama about a suburban couple struggling to cope with the loss of a young child. It features quiet, stripped-down performances from Nicole Kidman and Aaron Eckhart as the grief-stricken parents who find it difficult to turn to each other for support. There's nothing really wrong with the movie, but it's not exactly happy Christmas Day fare.
The movie is based on a play by David Lindsay-Abaire and might have been better served by a lesser-known actress in the lead role. I couldn't really buy Kidman as the average working-mother-turned-stay-at-home-mom type. Eckhart, on the other hand, was far more believable as the pained husband who loves his wife, but can't seem to reach her anymore – physically or emotionally.

There's not much else to say about this one. You have to really be in the mood for a sometimes-sad, sometimes-poignant, sometimes-hopeful drama that's rooted in a parent's worst nightmare. Not sure there's much of an audience for that type of movie this time of year.
No Comments Yet
You can be the first to comment!
Leave a comment