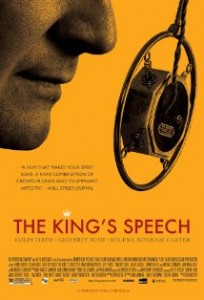 Last year, Colin Firth blew me away with A Single Man. This year, he's done it again, with The King's Speech. This guy can act. He says as much – if not more- with his silences as he does with his words. And he makes for a mighty fine king.
The King's Speech is based on the true story of Queen Elizabeth II's father – a Duke nicknamed "Bertie" who became King George VI after his older brother Edward abdicated the throne to marry an American divorcee (scandalous!).
The movie focuses on the Duke-turned-King's ambivalence about taking on the leadership role given an embarrassing speech impediment that causes him to stutter – especially when addressing the masses.
Buoyed by the support and encouragement of his wife (played by Helena Bonham Carter), Bertie undergoes treatment from – and forms a lifelong friendship with- a maverick speech therapist named Lionel Logue (Geoffrey Rush). Lionel helps Bertie confront his fears and find the voice he needs to lead the nation into World War Two. You can't help but root for the guy.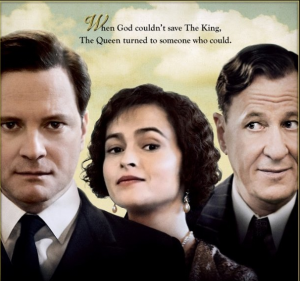 Firth manages to strike a perfect balance between relatable and regal, funny and profound. And while The King's Speech can feel a little slow in parts, the immensely talented trio of Firth, Bonham Carter, and Rush make it all worthwhile in the end. You may even learn a bit of history to boot and feel an unexpected bit of sympathy/empathy for the Queen, Charles, William and Harry. And Kate.
p.s. to the Academy: Firth has my vote (or would – if I had one) for Best Actor. He's more than earned it. Just rent Love Actually! The guy's got range!
4 Comments
Leave a comment