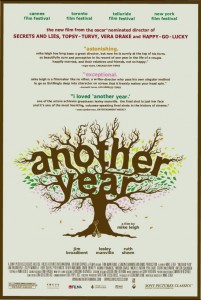 Mike Leigh knows how to write and direct women better than just about anyone else I can think of. He has been nominated for 5 Academy Awards for writing/directing films about women. (His male characters are also quite well drawn.) His women are complex, often tragic and frequently working class. Vera Drake was about a devoted mother who performed illegal abortions on the side. In Secrets and Lies a woman was forced to deal with the daughter that she gave up for adoption 20+ years earlier. And in his latest Another Year, he juxtaposes to two very distinct female characters: Gerri, who is successful in her career and personal life, and Mary, who is approaching middle age and is grappling with her failure to have found a man to share her life.
Another Year is structured around one year in the life of a happy couple nearing retirement. Played by Jim Broadbent and Ruth Sheen, Tom and Gerri are solid professionals: he, a geological engineer and she, a psychologist. They cook together, garden together and have what most people would consider a very happy marriage. But a part of their life involves several desperately unhappy people,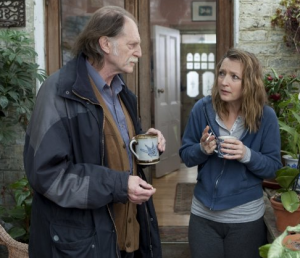 the most striking of whom is Mary (played with amazing honesty by Lesley Manville.) Mary has worked as a secretary with Gerri for decades and clearly considers herself to be a part of Gerri's family. On the surface she is upbeat and a bit kooky. But her life has been a series of romantic disappointments and she is just now realizing that her looks are fading along with her prospects, and so she is very much the lost puppy when she comes to see Gerri and Tom. They try to be there for her but seem to be the adults in the relationship and it is getting tiring. Mary drinks too much, acts inappropriately and risks destroying what appears to be her only relationship.
Another old friend who comes to visit is Tom's old friend Carl, who is overweight, boozy and also kind of lost. Maybe because they seem to know how to be happy, Tom and Gerri are a magnet for damaged people. By the end of the film, they have even taken in Tom's suddenly widowed, very taciturn brother, and there is a faint hope that he and Mary may help one another.
Another Year isn't a film with a plot line as much as it is a slice of life. It is broken into sections as the seasons pass and you cannot say a lot "happens", though by the end it feels like things may have shifted in a more positive direction. And I guess that is what a year in your life is. Mostly small changes, but looking back, things have altered slightly because of an incident here and a moment there. Another Year is at times very painful to watch because it is so emotionally honest. But it is also warm and funny in places because it is about how we try to care for the people around us despite their flaws.
Another Year is nominated for an Academy Award for its original screenplay and deserves it because it takes what seems like a mundane subject and makes it viscerally memorable. Lesley Manville's Mary is a fabulously tragi-comic Everywoman, and Tom and Gerri are paragons of the married variety, but what makes Another Year stand out is its compassionate telling of this particular year in the life. I'd recommend this for every chick out there, maybe especially those of the unmarried variety.