In a Better World won the 2011 Academy Award for Best Foreign film and it truly deserved it (though I've yet to see the others besides Biutiful, which was amazing, too.) Which brings me to this question: why does the Academy require all films except the foreign ones to screen in a theater in the US before they can qualify to be nominated? I'd love just once to be able to see the foreign nominees before the Oscars. (Dogtooth from Greece, Outside the Law from Algeria and Incendie from Canada are all opening at some point in the near future, so stay tuned.)
The Danish Oscar winner In Better World isn't an easy movie to watch, and you should be prepared to have a knot in your stomach for about two hours. But I think you'll be glad you did.
The story is very timely in that its central theme is bullying. 10-year-old Elias is being bullied at school. Elias' father is a doctor posted in a refugee camp in an unnamed African country and he is dealing with the horrifying wounds inflicted by a Warlord bully; he commutes back and forth from Africa to Denmark. Into their small Danish town comes Christian who has just lost his mother to cancer. He and Elias immediately form a bond when Christian takes on Elias' bully at school. Christian has been extremely affected by his mom's death and has a very dark anger inside, which brings him and his new friend into some extremely dangerous situations involving knives and bombs, and there are a couple of scenes on top of a very tall building, which will have you holding your breath. Paralleling the story of the boys is Elias' parents crumbling marriage, as well as Christian's angry rage at his father for his mother's death.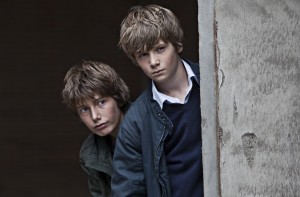 In a Better World is gorgeously shot with a wonderfully subtle script. The emotions are understated and painfully real and all the actors do a wonderful job of bringing this story of fragile relationships to life. But what makes In a Better World a great film is the way that it keeps the tension just under the surface from beginning to end. You have the phrase "This can't end well" running through your head the whole time. (I won't tell if it does.) The film deals with some enormous ethical dilemmas as well as questions of real friendship and family in an amazingly insightful and heartfelt way. And as hard as some of it is to watch, I can't imagine anyone not being affected by this story.
It is subtitled, but even Mainstream Chick who doesn't usually go for "movies we read" liked it. See it.