Arthur, oh where to start? It's a remake of the 1981 Academy Award winner. Yep, nominated for 4 and won 2. It starred Dudley Moore, Liza Minnelli and Sir John Gielgud. And it was a HUGE hit. 30 years later, we get Russell Brand, Helen Mirren and someone I never heard of named Greta Gerwig in the role made famous by Liza. Oh, and there is Jennifer Garner. The story is basically the same. Arthur is a lovable, hard-partying super wealthy Peter Pan who gets an ultimatum from Mom: marry Susan (Garner) who is a her hand-picked dream daughter-in-law or give up his fortune. Only Arthur doesn't love Susan, and just when he has grudgingly accepted the inevitable proposition, he meets a poor girl who steals his heart.
In the latest version, Arthur's butler has become his nanny (still named Hobson), played perfectly here by Helen Mirren who doesn't ever give a bad performance really. She's been with Arthur since he was 7 and is the mother he never had. She looks the other way when he is being stupid and cleans up after him, but genuinely cares about him when it comes down to it. On the way home from an auction where he bought Abraham Lincoln's suit for an insane amount of money just because he can, Arthur meets Naomi (Gerwig) in Grand Central Station where she is conducting illegal tours and he instantly recognizes a kindred spirit.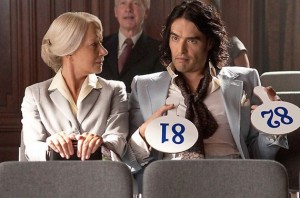 So of course, everything goes wrong. Susan finds out about Naomi, but Naomi didn't know Arthur was engaged and kicks him to the curb, even though he was going to tell her. But this being a comedy, you know it will all work out in the end.
Arthur starts off strong with inspired opening credits and a funny first scene in a Batmobile, and there are some wonderfully witty bits of dialogue along the way, but there are also some deadly dull moments, like the whole middle section of the movie. Russell Brand and Helen Mirren have great chemistry, but the same cannot be said about Brand and Gerwig. And that is the main problem with this flick. Liza Minnelli's Naomi was truly Kooky; Gerwig doesn't have a big enough personality to match up to Brand who has a great flair for big comedy. He also shows that he has some dramatic chops in a couple of scenes. He's one to watch.
I can't say I recommend Arthur for a full-price movie outing. Save it for an in-flight pick or Netflix rental. Meanwhile, I'm going to watch the original again to see if it really was that good or if the story just doesn't translate to the 21st century.