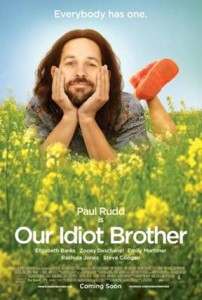 Our Idiot Brother is an okay movie that dabbles in the funny but never quite reaches the level of good drama or good comedy. It feels more like a warped episode of the recently-canceled television drama Brothers & Sisters. So if you're mourning the loss of that one, then Our Idiot Brother may provide some fleeting solace.
Paul Rudd (who I find quite likable but whose recent roles have fallen flat) plays Ned, a flaky but good-hearted organic farmer who puts too much trust in people and generally gets burned for it. Case in point – when he sells weed to a uniformed cop. D'oh!
Down on his luck, and kicked off the farm by his kooky girlfriend, Ned turns to his three sisters – Liz (Emily Mortimer), Miranda (Elizabeth Banks) and Natalie (Zooey Deschanel) – for shelter and support.
One by one, Ned manages to unravel the threads of his sisters' seemingly comfortable existences. But he does so unwittingly, or with the best of intentions, so it's kinda hard to fault the guy. Eventually, the sisters (and we) come to realize that maybe Ned isn't such an idiot after all… Perhaps there's something to be said for the way he lives his life… Or not. I'm not sold either way. That could be why the movie just didn't work for me, despite its best intentions.