I Don't Know How She Does It isn't quite as bad as many of the reviews would suggest. But it is just mediocre in the (95 minute) moment – and gone from your consciousness completely by the time you get out of the parking lot.
Sarah Jessica Parker plays a disheveled Carrie Bradshaw, er, I mean, Kate Reddy – a wife, mother of two, and high-powered businesswoman who's juggling and struggling to "have it all". And for the most part, she does. Maybe that's why the movie doesn't work. Any hint of tension or conflict is resolved before the audience has a chance to feel much of anything for anybody.
The characters are all rather boring, and boxed in cliché. And while I have no doubt that working mothers will find plenty to relate to – and chuckle knowingly at – throughout the movie… I also have no doubt that some stay-at-home moms will take offense at its 'one size fits all' depiction of so-called "Momsters" – women who hang out at the gym all day while the kids are at school, unless, of course, there's a bake sale!
The talents of Greg Kinnear (as Kate's cute and supportive husband) and Pierce Brosnan (as Kate's cute and ultimately supportive boss) are completely wasted here. Their roles bring new (de)meaning to the term "supporting characters". Both guys could have phoned it in.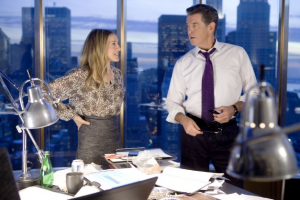 The main problem with I Don't Know How She Does It (aside from its long and forgettable title) is that I do know how she does it. I may as well be watching my sister-in-law in action. I don't need to see a fictionalized (and somewhat trivialized) version. After all, life is a series of trade-offs for all of us… single, married, working, unemployed, underemployed, with kids, without kids… the grass is always greener and all that.
I Don't Know How She Does It is based on the best-selling book (with an even longer title) by Allison Pearson. I'm guessing the book was better. But I Don't Know…
No Comments Yet
You can be the first to comment!
Leave a comment