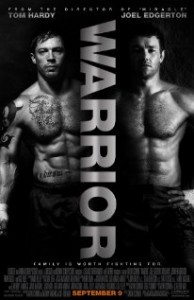 Warrior is NOT this year's The Fighter, though it tries really, really hard to be. Instead, it's a decent but cliché-ridden movie that borrows from every sports drama known to man (and woman, too). Take two cups of Rocky, throw in a dash of Raging Bull, mix in a tablespoon of Cinderella Man, Million Dollar Baby, The Hurricane, and of course, The Fighter, and you've got something close to Warrior. But then again, what do you expect from a movie that centers around Mixed Martial Arts (MMA), a brutally fascinating sport that combines the skills of boxing, wrestling, karate, kick boxing, jiu jitsu and more? Never heard of MMA? Better get with the program, 'cause this once cult phenomenon (a.k.a. "cage fighting") isn't just for closet UFC fans anymore. It's pounding its way into the mainstream, with millions of devotees worldwide.
This movie will be an easy sell to fans of MMA. But others may be wary. Fear not, however, for the heart of the movie rests with its characters. Yes, there actually is a bit of story tucked in there between the head-locks, upper-cuts and drop-kicks! It's not told as well as it could or should be, but the actors do their best to salvage a rather mediocre and disjointed script.
Here's the gist: Warrior is about two estranged brothers who end up competing – both as underdogs- in an MMA event billed as the Superbowl of the sport, with a five-million dollar purse. One brother, Tommy (British actor Tom Hardy), is a loner and ex-Marine who's harboring a secret pain. The other, Brendan (Aussie actor Joel Edgerton), is a fighter-turned-physics teacher who must return to the 'cage' to make ends meet and save his family from losing their house.
Both are estranged from their father, a recovering alcoholic who is played so well by Nick Nolte that you can almost forgive and forget his infamous mug shot photo. The guy's still got some acting chops. Who knew?
The movie is melodramatic and over the top and a bit inconsistent as it builds to a predictable climax in the ring. But overall, it was better than I expected, and the fighting scenes – though plentiful- weren't too brutal to watch. A lot of quick cutaways keep it PG-13-friendly. It's a bit long at two-hours and 20 minutes, and it may be a box office dark horse next to the A-list extravaganza, Contagion, but for pure escapism, Warrior is actually the easier pill to swallow.