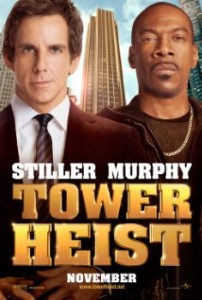 The trailer for Tower Heist makes it look like an Oceans Eleven-esque comedy ensemble thievery pic. And guess what? That's exactly what it is, only not as good. On the Oceans scale, I'd give it a six and a half.
Ben Stiller is no George Clooney, but he does do a respectable job as the ringleader of a group of working stiffs out for revenge against a Bernie Madoff type character, played by Alan Alda.
Stiller plays Josh Kovacs, the long-time manager of a ritzy Central Park high-rise that has a large, devoted staff catering to the every whim of its wealthy residents, including penthouse occupant and Wall Street titan, Arthur Shaw (Alda). When it's revealed that Shaw has swindled his clients out of two billion dollars – including the pensions of the building staff – Josh devises a scheme to break into the über-secure penthouse and find Shaw's hidden stash of cash. After all, nobody knows the building's layout and security better than Josh and his cohorts. What they don't know is how to commit a crime. So Josh recruits a petty thief from his own sketchy hood (Eddie Murphy) to mentor the Robin Hood wanna-bees. This is probably Murphy's best role – albeit a relatively small one – in several years and it brings back memories of his old SNL "Mr. Robinson's Neighborhood" persona (remember that one?).
The supporting cast – including Casey Affleck, Matthew Broderick, Michael Pena, Tea Leoni, Stephen Henderson, and Gabourey Sidibe – is decent, but the movie falters near the end, when it abandons any attempt to keep the action even remotely plausible.
Tower Heist certainly plays for more laughs than other recent 'ripped from the headlines' movies 'occupying' theaters (In Time, Margin Call, etc.) but it's not a must-see. It'll make for a good little rental or travel time-filler, or maybe a matinee – unless you desperately need a PG-13 alternative to this weekend's other new comedy release, the very R-rated buddy adventure, A Very Harold and Kumar 3-D Christmas. Oh joy.
Click here to watch the official Tower Heist trailer.
1 Comments
Leave a comment