It seems way too early for a "Christmas" movie, but to release A Very Harold & Kumar 3D Christmas any later would be like re-releasing Bambi on opening day of deer hunting season.
Consider it an early Christmas present for the not-so-easily offended, namely the devoted fans of the stoner franchise (the cult classic, Harold & Kumar Go to White Castle and its not-so-classic sequel, Harold & Kumar Escape from Guantanamo Bay). I watched this movie with said fans (two gals and a guy) and here's the consensus: 3D Christmas is not as good as the White Castle original, but it's much better than Guantanamo Bay. All things considered, thumbs up, dude!
John Cho (Star Trek) and Kal Penn (House doc turned temporary White House staffer) reprise their roles as Harold and Kumar. It's six years after their last adventure and the friends have drifted apart. Harold is now a banker, married and living in suburbia. Kumar hasn't changed.
The pair is reunited in adventure and mayhem when Kumar stops by Harold's house to drop off a package that arrived at their old address, and inadvertently sets Harold's Christmas tree ablaze with a giant joint. The rest of the movie centers around their efforts to find a replacement tree before Harold's family returns from midnight mass.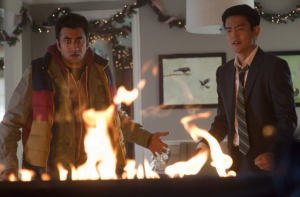 This movie is what it is – and it owns it – simultaneously mocking and embracing everything from 3D technology (watch out for flying smoke rings) to "spectacular" holiday production numbers (featuring the spectacular Neil Patrick Harris reprising his role as Neil Patrick Harris) to an irreverent (and very R-rated) twist on the tongue-stuck-to-a-flagpole scene from A Christmas Story.
A Very Harold & Kumar 3D Christmas is a dish best served to those with a Beavis and Butthead, Cheech and Chong, or South Park comic sensibility, if ya get my drift. If that's not you – don't go!!!! If it is you, you've probably already made plans to see it.
With its limited appeal, R rating, and 3D pricetag, I don't think H&K will be setting the box office on fire. There were only about 25 people in the theater for the showing I went to (on opening night no less). At least three walked out. The rest of us just sat back and enjoyed the 90-minute ride, safely shielded by darkness and 3D glasses.
A Very Harold & Kumar 3D Christmas is rated R for crude and sexual content, pervasive language, drug use and some violence. Merry Christmas, everybody!
To see the official trailer (i.e. a free, brief sanitized version of the entire movie), click here.
2 Comments
Leave a comment