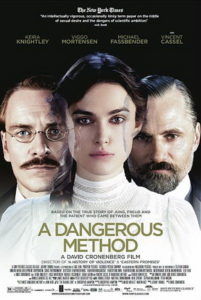 Michael Fassbender has been one extremely prolific actor this year, first as the arrogant Mr. Rochester in Jane Eyre, then playing Magneto in X-men: First Class, then as the tortured sex addict in Shame, and now he gives us psychoanalyst Carl Jung in A Dangerous Method. What a range of characters! I think Jung may be his best performance (I didn't see Magneto, but…), and A Dangerous Method is the best film in the bunch.
Based on a book and a stage play and a real life story, the film tells the tale of a young Russian woman named Sabina Spielrein (Keira Knightley) who arrives kicking and screaming at the Swiss hospital where Dr. Jung practices in 1904. She is in desperate need of help for a whole slew of severe neuroses. His treatment is the new "talking cure," and it turns out she is no mere hysteric, but a very intelligent girl who hopes to become a doctor and is very curious about these new techniques in the emerging field of psychoanalysis. After Jung treats and cures her, she heads to the university and an intellectual relationship blossoms, but then sparked by their discussions of Freud's ideas about sexual repression, it turns into a passionate affair. It is doomed, of course, to fail. He is married with a rich wife and several children, and she is a former patient and a Jew.
And while this relationship is evolving, Jung is developing his most important relationship. As his treatment of Sabina moves forward, he corresponds and debates with his dear friend and mentor in Vienna, the great psychologist Sigmund Freud (Viggo Mortensen). He is at first sure that Freud is wrong about every neurosis having a sexual cause. But as he gets to know Sabina he learns that she was not simply abused, but she became aroused by the humiliation. And as the relationship between the two pioneers of modern psychoanalysis develops, a rivalry emerges. Early on Jung refers to Freud as his "father figure."
Freud's theories were revolutionary and he was happy to have younger doctors taking up his cause, but when Jung begins to assert his own ideas, Freud is at first disparaging, and ultimately unable to sustain the friendship, resulting in a break-up that deeply wounds both men.
David Cronenberg (Dead Ringers, The Fly, Crash) is not known for making restrained movies, but A Dangerous Method possesses a subdued, intelligent elegance. Except for Keira Knightley's early grotesque histrionics, and a bit of naughty spanking, the film is mostly fascinating conversation and beautiful locations. The performances are all stellar, including a few manic scenes with Vincent Cassel (Black Swan) playing a patient who believes that sexual repression is the greatest sin. With A History of Violence and Eastern Promises, and now this beautifully subtle piece of film making, I think Cronenberg has moved into his intelligent adult period, and I cannot wait for his next one.
[I think we can all be grateful for scheduling conflicts. Christoph Waltz was initially cast as Sigmund Freud, but was replaced by Viggo Mortensen. Christian Bale had been in talks to play Carl Jung, and the role of Sabina Spielrein in the screenplay was written for Julia Roberts.]