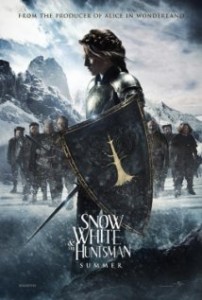 Mirror, Mirror on the wall, who's the fairest critic of them all? Okay, maybe that's a loaded question. But I do call 'em as I see 'em. And I must confess, I was pleasantly surprised by Snow White and the Huntsman. The film has its flaws, but overall, it offers up a quirky, twisted and visually-stunning take on the classic fairy tale. Kristen Stewart (forever of Twilight fame) plays Snow, an orphaned princess who's locked away for years by her stepmother, the evil Queen Ravenna, played with creepy and captivating flare by Charlize Theron. When Snow finally manages to escape castle captivity, the Queen solicits the help of the hunky Huntsman (Thor's Chris Helmsworth) to track her down and kill her. The Queen's desperate quest for immortality hinges on Snow White's demise.

Of course, no fairy tale – however dark and twisted- is complete without a Prince. In this case, it's Snow's childhood friend William (Sam Claflin), the son of a Duke. It's hard not to draw some parallels between Kristen Stewart's one-note vampire-wannabe-turned-warrior Twilight character, Bella Swan and her minimalist princess-turned-warrior Snow White. The question here is: Do you root for "Team Huntsman" or "Team William"? I'll never tell.
Bottom line: if you're a fan of epic action-adventure fairy tale type movies and/or shows like the recent television drama, "Once Upon a Time", then Snow White and the Huntsman is worth checking out.
1 Comments
Leave a comment