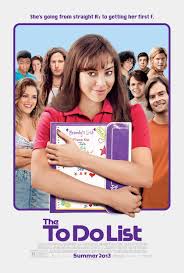 If you're old enough to remember Porky's (1982) or more recently, American Pie (1999), then you know exactly the demographic this movie is aiming for: horny teens and nostalgic Gen X-ers. Everyone else can – and should – skip this R-rated coming-of-age 'sex comedy' set in 1993. The To Do List is like an after-school special gone awry. It has some funny moments, but misses the 'message' mark by a mile.

Aubrey Plaza plays Brandy Klark, a high school Valedictorian who decides to shed her uptight image – and lose her virginity – before college starts in the Fall. She goes about it in the same methodical way she pursued her studies. She pens a "To Do List" of sexual exploits that would culminate with the ultimate conquest: a hunky college dude named Rusty Waters (Scott Porter). The result is a series of awkward encounters with a slew of guys including her sweet and enamored high school friend Cameron (Johnny Simmons), his dorky buddy Duffy (Christopher Mintz-Plasse), their pal Derrick (Donald Glover), and a stoned rocker named Van (Andy Samburg).
The cast also includes Connie Britton and Clark Gregg as Brandy's parents, Rachel Bilson as her slutty sister, Alia Shawkat and Sarah Steele as Brandy's best gal pals, and Bill Hader as the manager of the community swimming pool where Brandy and the guys all work.
The To Do List is written and directed by a woman (Maggie Carrie) and features a bit of a role reversal from the aforementioned sexcapade comedies. But if you want to see women at the helm of a decent raunchy comedy, go see The Heat instead.
Bottom Line: 'Just say no' to The To Do List.
No Comments Yet
You can be the first to comment!
Leave a comment