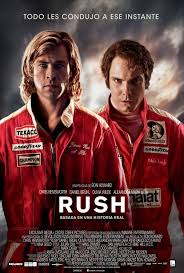 Opie – oops, I mean Ron Howard – doesn't make bad movies. At least, that's what I told myself as I dragged myself into Rush, a film about Formula 1 racecar driving – a topic I know less than nothing about. Well, now I'm a fan. Sort of. Because Ron Howard's movies tend to do that to – and for – the mainstream audience. It all boils down to good characters, good storytelling, and good directing. So yes, I got a rush out of Rush, and left the theater wanting to know more about the true story it's based on. And yes – the eye candy didn't hurt. Chris Hemsworth (Thor) is a cutie. But he showed more than his taut backside in this flick. He showed some real acting chops as well. And so did his co-star, Daniel Brühl (Inglourious Basterds).

Rush explores the intense 1970s rivalry between professional racecar drivers James Hunt (Hemsworth) and Niki Lauda (Brühl). Hunt is a handsome English playboy who thrives on taking risks. And Lauda is a disciplined, Austrian perfectionist whose risks are methodically calculated. The men are drastically different, but both live and breathe racecar driving. And winning.
The movie tracks the evolution of the Hunt-Lauda rivalry over the years as the two men push themselves to the breaking point, physically and psychologically, personally and professionally. The action-drama takes you along for the ride and doesn't make you choose sides. That's not to say you won't switch allegiances a few times during the course of the two-hour flick. But ultimately, that's a good thing.
Bottom line: You don't have to be a racecar fan to take Rush for a cinematic spin. Well done, Opie.
No Comments Yet
You can be the first to comment!
Leave a comment