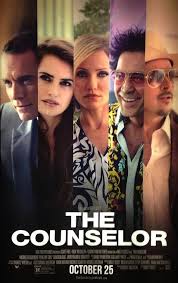 I almost didn't bother writing this up at all. But then I felt an obligation to alert the Chickflix readers… that I really hated it. The fact that it features an A-list cast makes The Counselor all the more disappointing. I'd love to be able to encapsulate the plot, but I really don't have a clue. All I know is that Michael Fassbender plays a lawyer who's mixed up in some underworld drug dealings that begin to take a heavy toll on his personal and professional life. His girlfriend (Penelope Cruz) is blissfully unaware. His "friends" (Javier Bardem, Brad Pitt) don't exactly have his best interests at heart. And I don't know what Cameron Diaz is supposed to be playing. Whatever it is… it's creepy, and gross. If you haven't already heard about her display of 'auto erotica', count your blessings.

And oh yeah – there's also lots of violence, and a beheading!
A few critics (with a capital 'C') may find some redeeming value in this film from director Ridley Scott and writer Cormac McCarthy (No Country for Old Men), but hey, I'm no critic. I just call 'em as I see 'em. And this is one fall flick that I don't ever care to see again. I just wish I could erase that image of Diaz 'doing' a sports car. Ick.
2 Comments
Leave a comment