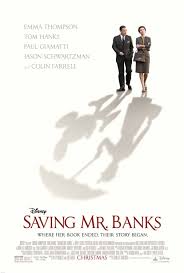 Saving Mr. Banks is a thoroughly enjoyable film that doesn't fit into any particular genre. It's a 'supercalifragilisticexpialidocious' blend of drama, wit and biopic, inspired by true events. The film sheds light on a years-long effort by Walt Disney (Tom Hanks) to convince a difficult and cynical British author P.L. Travers (Emma Thompson) to let him bring her iconic "Mary Poppins" children's book to the big screen. It was not an easy sell.

The movie manages to tell two stories at once rather seamlessly. As the Mary Poppins film stammers into production in Hollywood, flashbacks reveal the root of the characters at the heart of the Poppins tale. They include a young girl named Ginty (Annie Rose Buckley), her alcoholic father, Travers Goff (Colin Farrell) and her quietly-suffering mother, Margaret (Ruth Wilson). The end result is a film that's alternately haunting, endearing and entertaining. The Hollywood scenes are especially fun, thanks in large part to the relationship and witty banter between Disney and Travers, and the deadpan brilliance of a supporting cast that includes Paul Giamatti as Travers' driver in Los Angeles, Bradley Whitford as the writer tasked with adapting the book into a screenplay, and B.J. Novak and Jason Schwartzman as Richard and Robert Sherman, the talented duo whose music and lyrics helped convince Travers that "Mary Poppins" could survive a couple of song and dance routines. A spoonful of sugar indeed!
A few fun facts:
· Saving Mr. Banks is the first feature-length, theatrical drama to depict Walt Disney.
· Mary Poppins won five awards of its 13 Academy Award® nominations: Best Actress (Julie Andrews), Best Effects, Best Film Editing, Original Score and Original Song.
· P.L. Travers' father was a banker and is the basis for the "Mary Poppins" story's patriarch, Mr. Banks — the character in the book whom the famous fictional nanny comes to aid.
No Comments Yet
You can be the first to comment!
Leave a comment