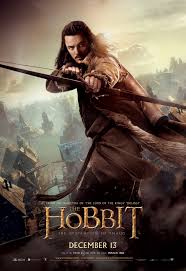 Here's all you need to know about The Hobbit: The Desolation of Smaug:
1. Anyone who's read "The Hobbit" and/or seen and enjoyed the first of director Peter Jackson's three-film adaptation will surely want to see this 'middle' installment. Odds are, they'll like it – a lot. It's quite good, visually and narratively.
2. The film essentially picks up where the last one, The Hobbit: An Unexpected Journey, left off. Bilboa Baggins (Martin Freeman) still has possession of a precious ring that gives him courage and short-term invisibility. And he's still on a dangerous quest with the wizard Gandalf (Ian McKellan) and a bunch of dwarves led by Thorin Oakenshield (Richard Armitage) to reclaim the lost Dwarf Kingdom of Erebor from an evil dragon named Smaug.

3. Evangeline Lilly (of Lost fame) adds some girl power to the mix as a kickass wood elf named Tauriel. And Orlando Bloom reprises his Lord of the Rings role as the elf prince Legolas. Neither character appears in the pages of J.R.R. Tolkien's "Hobbit" tale. So purists will just have to deal.
4. The film moves at a fairly steady clip, but ends rather abruptly after 161 minutes. You'll have to wait until next year for what's sure to be a somewhat drawn out 'dramatic conclusion.'
5. It may be worth seeing in IMAX, but the 3D doesn't add much.
6. Smaug is pronounced with an 'ow' in the middle (think 'ouch'). Say it correctly and impress all your friends.
1 Comments
Leave a comment