Currently browsing the "
Orlando Bloom

" tag.
The Outpost is a war movie. War movies are hard to watch. They're especially hard to watch when you can't tell the characters apart – even with on-screen "lower thirds" peppered throughout to try and alert you to who's who, and where. But hey- this is war. It's ugly. And loud. And bloody. And, as with most war movies, it pays tribute to soldiers lost, heroes made, and survivors burdened with the memory of what they've been through… in this case, a deadly attack by the Taliban on an "indefensible" Outpost in eastern Afghanistan in 2009. The Outpost is based on the 2012 New York Times best-seller "The Outpost: An Untold Story of American Valor" by CNN's Jake Tapper. Everything about this film screams low-budget labor of love. So while I found the acting and dialogue inconsistent at best, I can appreciate what it's trying to do. And, it's a story that gains extra resonance in light of recent intelligence reports that Russia has been offering Taliban-linked militants money to kill coalition troops in Afghanistan. If nothing else, this type of film reminds us there is still (for all intents and purposes) a war going on – and American troops are still dying over there – a full decade after the battle depicted in The Outpost.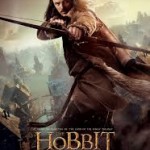 Here's all you need to know about The Hobbit: The Desolation of Smaug:
1. Anyone who's read "The Hobbit" and/or seen and enjoyed the first of director Peter Jackson's three-film adaptation will surely want to see this 'middle' installment. Odds are, they'll like it – a lot. It's quite good, visually and narratively. 2. The film essentially picks up where the last one, The Hobbit: An Unexpected Journey, left off. Bilboa Baggins (Martin Freeman) still has possession of a precious ring that gives him courage and short-term invisibility. And he's still on a dangerous quest with the wizard Gandalf (Ian McKellan) and a bunch of dwarves led by Thorin Oakenshield (Richard Armitage) to reclaim the lost Dwarf Kingdom of Erebor from an evil dragon named Smaug.