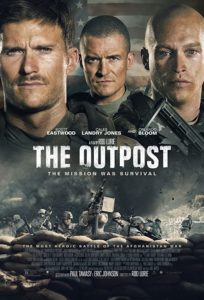 The Outpost is a war movie. War movies are hard to watch. They're especially hard to watch when you can't tell the characters apart – even with on-screen "lower thirds" peppered throughout to try and alert you to who's who, and where. But hey- this is war. It's ugly. And loud. And bloody. And, as with most war movies, it pays tribute to soldiers lost, heroes made, and survivors burdened with the memory of what they've been through… in this case, a deadly attack by the Taliban on an "indefensible" Outpost in eastern Afghanistan in 2009. The Outpost is based on the 2012 New York Times best-seller "The Outpost: An Untold Story of American Valor" by CNN's Jake Tapper. Everything about this film screams low-budget labor of love. So while I found the acting and dialogue inconsistent at best, I can appreciate what it's trying to do. And, it's a story that gains extra resonance in light of recent intelligence reports that Russia has been offering Taliban-linked militants money to kill coalition troops in Afghanistan. If nothing else, this type of film reminds us there is still (for all intents and purposes) a war going on – and American troops are still dying over there – a full decade after the battle depicted in The Outpost.
The Outpost tells the story of a small unit of U.S. soldiers – Bravo Troop 3-61 CAV – stationed at the remote Combat Outpost ("COP") Keating, situated deep in the valley of three mountains in Afghanistan – a location that made them sitting ducks when Taliban fighters decided to launch a coordinated attack from above. The "Battle of Kamdesh" was one of the bloodiest engagements of the Afghan war. Eight Americans were killed and 27 wounded in the 12-hour firefight that ended with this tiny unit defeating hundreds of Taliban (with the help of some much-needed air support).
The film stars Scott Eastwood (Suicide Squad, Pacific Rim: Uprising, The Longest Ride) as Staff Sergeant Clint Romesha and Caleb Landry Jones (Three Billboards Outside Ebbing Missouri, Get Out) as Specialist Ty Carter, who were both awarded the Medal of Honor. Orlando Bloom (Lord of the Rings, Pirates of the Caribbean) plays First Lt. Ben Keating, sporting an accent I couldn't begin to identify. The unit is a typical "band of brothers" – squabbling and spouting vulgarities one minute, and having each others' backs the next.
The mission, from beginning to end, was survival.
The Outpost does not rise to the dramatic level of a 1917, Lone Survivor, American Sniper, etc. It felt long – though the second hour was more intense and moved faster than the first –  and I had a difficult time getting into the narrative and connecting with the characters.
I suspect this is one of those films that tries so hard to be faithful to the men and their story that it sacrifices some level of mainstream appeal in the process. A lot of these guys are still alive – and some even appear in the movie. Director Rod Lurie – himself a former soldier and graduate of West Point – dedicates the film to his son Hunter who died at age 27 as production was getting underway. And the end credits feature a moving montage of real-life photos of the men portrayed in the film, along with their various commendations.
Bottom line: If you're into gritty war films and keen to be immersed in one key battle in a long modern war, then you may want to check out The Outpost, available On Demand July 3rd.