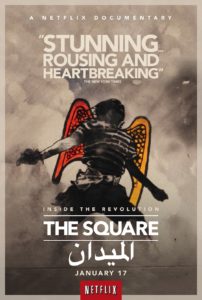 The Square is an extremely engaging documentary that puts you right in the middle of Cairo's Tahrir Square during the first 2 years of the still unfolding Egyptian revolution. It follows a handful of young revolutionaries as they and their vast herd of comrades take over the square, oust their President, elect another and then get rid of him. Directed by Egyptian-American filmmaker Jehane Noujaim (Control Room), the film centers on the experiences of 4 different people who were living through the upheaval and have very different perspectives on their country: Ahmed Hassan, a young working-class Egyptian and the film's narrator; expat actor Khalid Abdalla who starred in The Kite Runner and whose good English and notoriety make him attractive to Western media; Muslim Brotherhood member Magdy Ashour, who was tortured by Mubarak's thugs; and singer Ramy Essam, whose revolutionary songs stir the crowd.
This is not the film to go to if you want background and facts and figures about the revolution and its meaning. Rather, it is an immersive experience, greatly aided by amazing videographers who were not afraid of standing in harms way for the shot. And there are times in the film that you are sure they will be killed. Shots ring out. The army literally runs over people standing in the way. Explosions rock the cameras.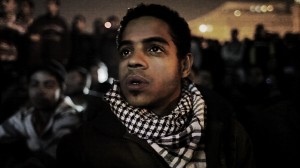 Singer Rany Essam is taken away and returns to show off his horrible wounds from the torturers. It is all very messy and scary and despite their divisions in political philosophy Muslim Brotherhood member Magdy and more secular Ahmed are both on the side of a democratic Egypt, but as the film shows, getting there is ugly and loyalties are dangerous. But in the end, The Square is a beautiful testament to the people who came (are still coming) out into the streets to fight for what is right and fair. Its message is one of hope and the power of the people. It ends with the dedication, "to the memory of those who lost their lives, and the countless individuals who continue to fight for freedom." An Academy Award win might just reinvigorate many of those who have been fighting the good fight to keep going until Egypt becomes the free country they envision. See it!
2 Comments
Leave a comment