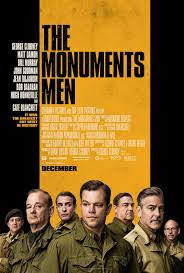 It was hard not to wonder WHY the release of The Monuments Men was delayed by several months, missing out on the awards-season bru-ha-ha. Now I (think I) know. It simply isn't good enough. It's not bad by any means, but it is disappointing, especially when you consider the raw materials that included an interesting story and an A-list cast led by George Clooney, who also directed the film.
The Monuments Men is based on the true story of an unlikely platoon of soldiers– museum directors, architects, artists, curators and art historians – who went to the front lines during World War II to help rescue, preserve and return some of the world's greatest artistic masterpieces, jeopardized by Nazi thieves.

Clooney plays Frank Stokes, the driving force behind the creation of the Monuments Men brigade. Stokes recruits an array of characters portrayed by Matt Damon, Bill Murray, John Goodman, Jean Dujardin and Bob Balaban to carry out what proves to be a noble but monumentally-dangerous mission. Cate Blanchett adds some spark as a French spy with a soft spot for art. Sounds like the makings of a great movie. Unfortunately, the movie suffers from a lack of character development and empathy and a very inconsistent tone that drifts from Hogan's Heroes type humor to preachy and predictable war-weary drama.
On the plus side, the movie may very well succeed in promoting efforts to revisit the true story of these unlikely heroes of World War II and spark renewed conversation about the responsibility of protecting cultural treasures, as well as life, in times of war. And that's certainly worth acknowledging and supporting by reading the book, visiting related exhibits popping up nationwide, or seeing the film – as a matinee or rental.
No Comments Yet
You can be the first to comment!
Leave a comment