The Past is a compelling domestic drama from the director of the 2012 Oscar winning film A Separation. This time instead of setting it in Iran, the film takes place in France though the feeling of the storytelling is much the same. It is one of those peeling back the layers of an onion plots, which begins as Ahmad (Ali Mosaffa) returns to France from Iran to sign divorce papers with his ex, Marie (Bérénice Bejo of The Artist). She has a new man in her life, Samir (Tahar Rahim of A Prophet), but her teenage daughter Lucie has some serious problems with the new relationship, and Marie is unable to figure out why.
Ahmad used to have a close relationship with Marie's daughters and wades into the conflict, bringing more and more clarity to a very messy story. I won't give away the many plot points that you don't see coming, but they keep you off kilter throughout. The whole film feels a bit like a mystery/thriller that continually shifts from character to character, as secrets are revealed that reorder their world. The children are as much as part of the story as the adults and their performances are at times heartbreaking. They all want a stable family. Marie's daughters have seen a succession of men come and go, and Samir's son has not really had a mother, since his own put herself in a coma with a botched suicide attempt when he was just an infant. Ahmad may be the only one who sees what is happening since he has become the outsider. And it is he who pulls all the secrets to the surface.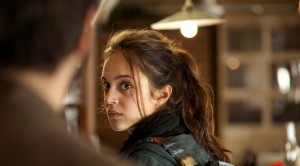 People who appreciated A Separation will no doubt enjoy this film, too. It has the same tension that keeps you enthralled with what might otherwise seem like a fairly mundane plot. Writer/Director Asghar Farhadi has brought together a stellar cast for The Past, and given them such wonderful characters to sink their teeth into. The girl who plays Lucie (Pauline Burlet) is particularly fabulous at displaying that teenage fragility wrapped in armor. I think this is a film that might appeal to wider audiences than many other foreign films, since the themes are very universal. And I look forward to the next from Farhadi. His are such beautifully real human stories.