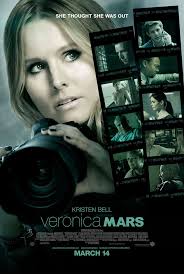 Full disclosure #1: I own a piece of this movie. Well, me and a gazillion other 'kickstarter contributors' who coughed up x-number of dollars for a slew of 'insider' emails and an ill-fitting tee-shirt (unless you're shaped like an Abercrombie and Fitch model).
Full disclosure #2: I've never seen a single episode of the 'Veronica Mars' television series that ran from 2004-2007 and obviously built a cult following in desperate need of closure.

So why did I contribute to the Kickstarter campaign to bring what amounts to a 'Veronica Mars' reunion movie to the big screen? Curiosity. Envy. Appreciation for the effort. And the misguided dream that it would be really cool – and also unprecedented- to actually reimburse the contributors if the movie made all that money back, and then some. Probably aint gonna happen. But such is the nature of kickstarter… it basically funds other people's dreams. So more power to 'em.
As for the movie itself, it's definitely entertaining in a sassy 'Nancy Drew mysteries' sort of way. Not too surprisingly – given the speed with which it went from pre-production through post – it has the look and feel of a very special two-part episode of a beloved television series. This movie was obviously and unapologetically made by – and for – its devoted fan base (yes, marshmallows – the movie will give you a sense of closure. And don't worry – no spoilers forthcoming.)
The movie opens with a lengthy voiceover by Veronica Mars (Kristen Bell), establishing her history as a teenage detective, and setting up the current premise: She's put the detective thing behind her (yeah, right) and is on the verge of becoming a big-city lawyer. But just as she's about to take the Big Apple by storm, she's lured back to her hometown – for her high school reunion, and to help her old flame Logan (Jason Dohring) beat a murder rap.
Veronica Mars offers up a decent murder mystery while poking fun at itself – and the show's history – as the opportunities arise. I know this from the frequent chuckles emitted by audience members who were obviously privy to a number of 'inside jokes' that escaped – but did not bother – me. I was happy that they seemed happy.
So, Veronica Mars aficionados, enjoy the reunion – and the closure that it brings. If you've never heard of Veronica Mars, you can probably skip this movie without regret. But if you miss the likes of a good Nancy Drew/Hardy Boys mystery, then you could very well be a marshmallow in the making.
Why are VM fans called marshmallows? No idea.