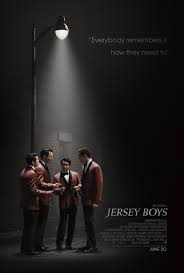 If you like the music of Frankie Valli and The Four Seasons, then treat yourself to Jersey Boys, the award-winning broadway musical-turned-movie directed by Clint Eastwood. The movie isn't as good as the stage version, but it's certainly cheaper and the music is the same, as are a few of the lead actors. Unfortunately, stage acting doesn't always translate onto the big screen, and while these guys are all solid singers, the acting comes off a bit forced and inconsistent. Fortunately, the familiar musical numbers help keep the audience engaged, even when the story starts to falter. From 'Sherry,' 'Can't Take My Eyes Off of You' and 'Big Girls Don't Cry' to 'Rag Doll,' 'Oh What a Night,' 'My Eyes Adore You,' etc. That's a lotta hits.

The movie is essentially a gritty, music-filled biopic that tells the story of the four young men from the wrong side of the tracks in New Jersey who eventually became the iconic 1960s rock band, The Four Seasons. It's primarily the story of Frankie Valli, whose life and career teetered on the edge of obscurity and super-stardom and back again, through years of personal and financial upheaval and connections to the mafia (including mob boss Gyp DeCarlo played by Christopher Walken).
John Lloyd Young recreates his Tony-winning lead role, and falsetto, as Frankie Valli. Michael Lomenda and Erich Bergen, from the show's first national tour, play singer Nick Massi and prolific songwriter Bob Gaudio respectively. And Vincent Piazza, of Boardwalk Empire fame, steals much of the off-stage spotlight as the group's chief troublemaker Tommy DeVito. The dialogue and the drama don't resonate as much on the big screen as they do on the stage, so don't expect the emotional punches to pack as big a punch, especially when it comes to Frankie's familial heartache. But as I said, trade-offs were obviously made in an effort to hit the right musical notes.
Watch carefully and you'll catch a glimpse of a young Clint Eastwood. And stay through the end for the movie's toe-tapping, curtain-call-esque finale. That's when the movie Jersey Boys reverts back to its broadway roots and you'll be tempted to applaud the cast — even if they can't see you. Bottom line: great music, good (but not great) movie.
No Comments Yet
You can be the first to comment!
Leave a comment