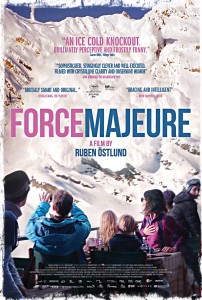 There is a lot of buzz around Force Majeure, a Swedish relationship drama. They LOVED it at Cannes, it is Sweden's Oscar entry, and the Foreign Press has just nominated it as best foreign language film. But the question to me is, does it appeal more to European audiences than Americans? I liked it and I think it is a well-done film with a compelling question at its center, but best film?
The story begins in the beautiful French Alps, at a gorgeous resort, with a very good-looking Swedish family (mom, dad, two kids, a girl and a boy) posing for a photographer on the slopes. The next day, after some skiing, Tomas, Ebba, and the kids stop for lunch at a to die for restaurant with a majestic alpine backdrop. From the beginning of the film, cannons have been going off all around the resort to create controlled avalanches. So when it happens during lunch, it's really no big deal, that is until the avalanche builds and builds to the point that the entire restaurant is shrouded in white and people start to panic. And unfortunately, Tomas freaks out big time, running away from his wife and kids as they scream his name. Turns out, there was no danger, just a lot of "snow fog." But the rest of the film is the repercussions of his lily-livered instincts playing out.
And he isn't helped at all by his refusal to own up to his actions, even denying he ran away, which pushes Ebba to call him out as a coward.
The central question of whether Tomas should be forgiven for his instinctual response is debated from the avalanche until Ebba finds a way for him to redeem himself. Not a lot else happens. It is really all about how a couple reacts to a loss of trust and the expectations put on fathers/men to be heroes. It turns out that Tomas really is the weak one in the relationship, and Ebba just has to accept it, which she has by the odd scene at the end of the film. Both of the actors playing the leads are quite good and the film is gorgeously shot. But I am a bit confused by the gushing of other critics. It's a good movie, no question, but it is too one drawn-out note for me to put it on my best of list. Still, it is a good drama worth seeing.