So many films, so little time. Running back and forth from DC to Silver Spring, it was impossible to see all the films that were available. Anyone who can, should go next year. I'll let you know when, and we can see them all then compare notes! Here are my short takes on the films I saw the last two days. Trailers are below.
Day Three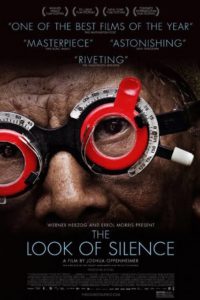 The Look of Silence was another film I'd been looking forward to. It is a companion piece to the most disturbing documentary of the last few decades, The Act of Killing. Where that film was about the 1960s Indonesian genocide from the point of view of the unrepentant perpetrators, this much quieter film tells the story from the perspective of the younger brother of one of the victims, as he tries to find out how the murderers live with what they did. He is an optometrist and travels around his community fitting many older men for glasses, using the occasion to ask them questions about their role in the killings. A few of them get angry with him for bringing it up, and some of their children claim to have never heard about their parents' role in the mass killings. But most of the older people remember his brother and his death, and they freely share their memories of their roles in it, though for them it was just something that happened back then, no more. The men who massacred a million of their countrymen are still in charge of the country, as well as the official narrative of what happened, as we see in a scene where the younger bother's son is (mis)taught history in school. The audience is also present as a few of the killers return to the site where the brother was brutally murdered, as they narrate and recreate his death, as well as those of many others. You'd think they were talking about a fishing expedition or a long ago field trip the way they talk about it with absolutely no remorse. The Look of Silence is really not a stand-alone film. It is the counterpoint to the earlier film (though both were apparently shot at the same time.) The first was full of drama and bravado, and this is the flip-side with silences and pain. Together they present a fuller picture of the still unreconciled rift in the Indonesian community. Well worth seeing.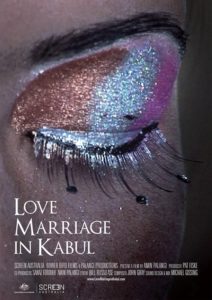 Love Marriage in Kabul is a sweet film, shot in Afghanistan centering on the struggle of a young man, Abdul, to get married to the girl he loves. The backdrop is an orphanage run by Afghani ex-pat activist Mahboba Rawi, where Abdul grew up and still works. Mahboba is only in the country for a month to take care of business, but Abdul was the first child in her first orphanage, and she thinks of him as a son. She and her coworkers try to negotiate the marriage with the girl's father who demands a large sum of money or a wife for his son. Unfortunately, neither is easily available, and the father keeps reminding them that he has another suitor who is waiting in the wings if they cannot meet his demands. The film is a series of attempts to find money and suitable young women, while Mahboba also must take care of all the orphanages her non-profit is trying to keep going. As sweet as Abdul is and as much as you want him to get to marry the girl of his dreams, you cannot help but fall in love with Mahboba who seems to have a boundless heart and unstoppable optimism. And you will want to send her some money at the end to help her keep her ventures afloat. (http://mahbobaspromise.org/) Definitely one of my favorite films of the festival.
I had high hopes for Steve Jobs: The Man in the Machine. Director Alex Gibney has a long history of insightful, well-crafted documentaries about difficult subjects — Going Clear, Enron: The Smartest Guys in the Room, Taxi to the Dark Side. But this film adds nothing to the Jobs narrative and feels muddled in its storytelling. It starts with the premise that the whole world has been fooled into thinking that Jobs was the next coming of Christ and his death was an international tragedy. But Gibney, who wrote and performs the self-conscious narration, has seen through this massive media smokescreen and uncovered a less than appealing man. Through interviews with people most of whom were not in the inner circle of Jobs's Apple, he builds his case that Jobs was not a nice guy, but made good stuff. Yeah, I knew that. I'd hoped to get some insight into why, but Steve Jobs: The Man in the Machine doesn't seem to know and couldn't get to the people who do. Maybe the upcoming Jobs film, the one written by Aaron Sorkin and starring Michael Fassbinder will have more depth. Wouldn't be hard. This one opens September 4th. The Fassbinder version, in October. Wait for it!
Day Four
Code: Debugging the Gender Gap is a fabulous advocacy documentary about the dearth of women in computer sciences, a field they pioneered. This film should be shown in every school or at least to every teacher in America. It looks inside Silicon Valley and all the tech companies to show how underrepresented women are in the field, and how the boys' club mentality keeps a lot of women out. But it also points to the ways that girls are pushed away from computer science very early in schools based on gender stereotypes that have no basis in science. It builds a case for bringing girls in sooner and points out that there are more jobs in the tech field now than there are people to fill them. This is not a movie for mass audiences as much as a call to arms in education and for administrators in academia to change the ways that technology education is framed. But if you are working in education, it is a must see!
Welcome to Leith is as timely as they come. Leith, North Dakota, with a population of around 25, was nearly taken over by a group of White Supremacists in 2012. Notorious Neo-Nazi Craig Cobb decided he wanted to build a whites only community and began buying up lots in the sleepy little town in the middle of the prairie. He even moved into one of the houses, right across the street from the town's only black resident. When the people of Leith realized what was happening, they used whatever legal maneuvers they could, but also knew that they were coming close to betraying the very values they hold dear. Cobb knew the law and his first amendment protections all too well, and used them against this nice close-knit community, nearly pushing them to the breaking point, but finally stepping over that line himself. It is a scary look at our democracy in action. How far would any of us go to keep such hateful people out of our communities? And Cobb is at it again right now, in another town in North Dakota. I hope the residents there see this film and heed the lessons that the folks in Leith learned the hard way.
Among the Believers is a frightening view inside the Red Mosque madrassahs of Pakistan, where young boys and girls are taught nothing but hate of infidels. Led by the extremist cleric Maulana Aziz, the schools are factories that fill the ranks of future Muslim extremist groups like Al-Qaeda. Children spends all their time memorizing the Koran and repeating back passages to their teachers. Aziz's schools keep the children in isolation from their families and indoctrinate them in the way of jihad. In counterpoint to this extremism are moderate secular Pakistanis who are trying to keep their country from tipping into a religious war. Educational activist Dr. Pervez Hoodbhoy is the leader of this group, calling for the shutting of these schools, especially after the horrible attacks in Peshawar when extremists killed 132 schoolchildren. The filmmakers had unprecedented access to these schools and to the leaders who are all too certain that they are on the right path. The film also follows two students, a girl and a boy. The boy is happy on his path to jihadi, but the girl returns to her secular school, putting herself in danger from the Taliban. This well done film is a stark look at the problem of combating religious extremism in Pakistan, but could undoubtedly be extrapolated to cultures around the world.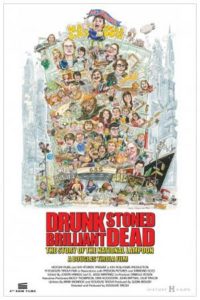 Drunk Stoned Brilliant Dead is a hilarious stroll through the history of the National Lampoon, from its humble beginnings to its ignominious death. Begun by former Harvard Lampoon writers in 1969, the totally irreverent magazine was the testing ground for some of the greatest comedy of the next decades. I read it back in the day, but had forgotten how far they pushed the envelope in terms of taste. It was decidedly un-PC, but those were the pre-PC days. They brought us the Second City players and were no doubt responsible for the birth of Saturday Night Live, which was essentially a spin-off (rip-off) of National Lampoon Radio Hour. Many of the great comedy writers of today passed through those doors, and several of the best classic comedy films sprung from their drug addled brains. It is a very funny walk down memory lane, with a lot of great interviews and fun archival footage. If you loved the Lampoon, you'll enjoy the film. It isn't a must see, but if you light up a doobie and sit back and watch, you might just feel 30 years younger.
The Look of Silence
Love Marriage in Kabul
Steve Jobs: The Man in the Machine (No trailer available, just this clip.)
Code: Debugging the Gender Gap (No trailer available.)
Welcome to Leith
Among the Believers
Drunk Stoned Brilliant Dead (There is no trailer, but there seem to be multiple links to the full movie on YouTube. Here is a Q&A with director from another festival. He was MIA at the screening I attended.)