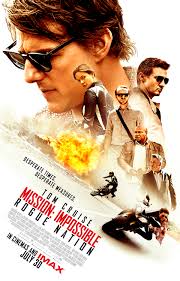 Mission: Impossible – Rogue Nation is a thoroughly engaging and entertaining ride, providing just the right mix of drama, special effects, and story to satisfy the 'summer movie' crowd… even if you're not a big Tom Cruise fan. Love him or hate him, or somewhere in between, there's no denying the guy is aging extremely well and can still carry an action movie (bring on the Top Gun sequel!). In fact, I still think his action-adventure flick Edge of Tomorrow was one of the most under-appreciated movies of 2014. So consider that one for the Netflix queue. But back to MI and the fifth installment of the franchise about a covert ops team tasked with missions deemed impossible for anyone else in the intelligence community…
Here's the gist: Senior IMF field agent Ethan Hunt (Cruise) is hot on the trail of a shadowy international network known as The Syndicate. But his team has been disbanded and absorbed by the CIA — leaving Ethan to fend for himself, at least temporarily, as he attempts to stop an assassination or two and bring down the bad guys. He ends up joining forces with a kick-ass British agent named Isla Faust (Rebecca Ferguson) who may be a double, triple or quadruple agent. I sort of lost track. But it doesn't really matter. There's no time to worry about plausibility as Ethan is constantly on the move – from hanging on the wing of an airplane during take-off, to scaling the Vienna Opera building inside and out, to holding his breath for several minutes to crack some underwater safe. Never a dull moment.
The supporting cast has Hunt's IMF buddies going rogue to help him out, including Simon Pegg as Benji Dunn, Jeremy Renner as William Brandt, and Ving Rhames as IT specialist Luther Stickell. They help provide the comic relief.
Mission: Impossible – Rogue Nation is an excellent choice for anyone who enjoys a solid action-adventure movie with a splash of intrigue and humor.