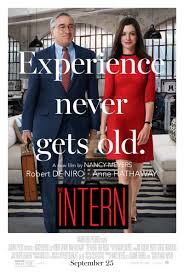 From the opening sequence, you know you're watching a Nancy Meyers movie. The director of many chick flick gems including The Holiday, Something's Gotta Give, It's Complicated, and Baby Boom has a definite formula, and it works again here– to some degree. The intern is a pleasant enough movie that manages to shine a humorous and poignant light on some interesting themes, from aging to work-life balance, to friendship and loyalty. But the movie is not without its flaws. There are a couple of scenes that don't really go anywhere, and a few character traits that don't particularly track. And, it's really hard not to draw comparisons to that 'other' Anne Hathaway star vehicle, The Devil Wears Prada, where Hathaway plays the embattled assistant to the demanding editor-in-chief of a high fashion magazine (played by legendary actress Meryl Streep). In The Intern, Hathaway is the founder and chief executive of a start-up online fashion site that employs a "senior" intern named Ben Whittaker, played by legendary actor Robert De Niro. Why become an intern at 70? He's a lonely and bored widower seeking new challenges in his retirement years. And he's still got a lot to offer.
De Niro's character oozes old-school charm and a depth of experience that can't be measured by 21st century metrics. He quickly and quietly wins over everyone in the office – including the big boss Jules (Hathaway), who is struggling to juggle the roles of wife, mother and executive, on very little sleep. In a bit of a twist to the traditional narrative, Jules' husband is a stay-at-home dad raising their adorable daughter Paige (JoJo Kushner in her first movie gig). The husband's storyline is one of those that didn't really track for me. I blame it on a combination of casting and plot. There's also the obligatory love interest for Ben – in the form of the mature office masseuse, Fiona (Rene Russo). I couldn't help feeling like she was thrown into the mix to avoid any potential doubts about the (platonic) relationship between Ben and Jules. Though there is one scene… oh, never mind. It's not really a romantic comedy. It's more like a conventional dramedy.
The Intern is certainly more sophisticated than the 2013 Owen Wilson/Vince Vaughn comedy The Internship, but both have a certain fleeting charm that makes them a solid choice – for rental. The Intern is not a must-see in the theater, unless you happen to be craving a sweet, generally entertaining movie that doesn't contain special effects, graphic violence, or brooding teens. If you really, really like the trailer, then you'll probably like the movie. Just don't expect to love it.