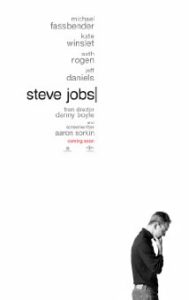 First, there was Jobs, a 2013 biopic about the Apple founder as portrayed (rather decently) by Jobs doppelgänger Ashton Kutcher. Then, there was Steve Jobs: The Man in the Machine, a rather disappointing documentary from acclaimed director Alex Gibney. And now, there's Steve Jobs, yet another take on the flawed genius who put iPads, iPhones and iMacs in the hands – and on the desktops – of the masses. This latest effort has three things going for it: a snappy script by Aaron Sorkin (The Social Network, The West Wing, etc.), the direction of Danny Boyle (Slumdog Millionaire), and the magnetic appeal of Michael Fassbender (X-Men, Inglorious Basterds). Put all of the above movies together, and you come away with one clear message: Jobs was a brilliant a-hole. (ummm, A is for apple?)
The plot, such as it is, revolves around backstage drama at the start of three iconic product launches, ending in 1998 with the unveiling of the iMac. Given that Steve Jobs is a Sorkin-penned narrative, it should come as no surprise that the movie is a dialogue-driven flick that uses wit and rapid-fire conversation to convey the computing pioneer's strained relations with family, co-workers, bosses, and pseudo-friends including marketing maven Joanna Hoffman (Kate Winslet), Apple co-founder Steve Wozniak (Seth Rogen), former Apple CEO John Sculley (Jeff Daniels), ex-girlfriend – and mother of the child that Jobs attempted to deny was his – Chrisann Brennan (Katherine Waterston), and Macintosh development team member Andy Hertzfeld (Michael Stuhlbarg).
Like Jobs himself, Steve Jobs is far from perfect. But if you're fascinated by the man, the myth, and the technology he helped create, then go check it out. But please, don't forget to silence your phones. Or better yet, turn them off altogether. The break will do you good.