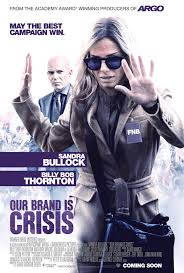 Burnt is a foodie flick.
Brand is a political flick.
Burnt stars the eminently watchable Bradley Cooper as a brilliant but temperamental chef struggling to make a comeback after battling addictions to women, drugs, and booze.
Brand stars the eminently watchable Sandra Bullock as a brilliant political strategist struggling to make a comeback after some sort of mental breakdown and crisis of conscience.
Neither movie is Oscar-worthy, despite having star-studded casts and interesting premises. But both are decent. If I had to pick one over the other, I'd go with Burnt. It's definitely the more engaging and entertaining of the two… and watching Cooper speak French over a hot stove in London is just way cooler than watching Bullock attempting to speak Spanish to volunteers and voters in Bolivia.
Here's Burnt in a nutshell: Chef Adam Jones (Cooper) is a Gordon Ramsay type who can go ballistic in the kitchen but still draw the admiration of his peers – at least where his culinary skills are concerned. He earned two Michelin stars whipping up delicacies in Paris before his addictions sent him on a downward spiral. After a self-imposed penance that involved shucking oysters in Louisiana, Adam resurfaces in London, clean and sober, but still arrogant — and determined to earn a highly-coveted and elusive third star. He convinces the partner of his former mentor to give him his own kitchen again, and he hires an A-team consisting of former friends, enemies, and a beautiful and talented chef (Sienna Miller) who can teach him a thing or two about food and romance. Burnt is a bit formulaic, but takes a few interesting and surprising turns. Its biggest flaw is a lack of development of several characters, including Uma Thurman as an influential food critic, Emma Thompson as a wardrobe-challenged doctor/therapist, and Alicia Vikander as an ex-girlfriend. It seems they were cut from the menu to avoid an overstuffed running time. So while the movie doesn't drag, it doesn't completely satisfy either.
Our Brand Is Crisis in a nutshell: American political strategist "Calamity" Jane Bodine (Bullock) is recruited to work on the campaign of a Bolivian presidential candidate who's way down in the polls. Meantime, her longtime professional nemesis Pat Candy (Billy Bob Thornton) is advising the front-runner. They have a sort of James Carville and Mary Matalin rapport gone wrong. The movie offers up a heavy dose of political satire that some might find timely, and others might find depressing as the two strategists – and their candidates – manipulate and exploit the system, and the voters, in an effort to gain sympathy, empathy, and power. In other words, it's all a big game, until the very real stakes are finally and truthfully revealed.
Burnt and Brand are both about second chances, redemption, and recovery. They are both rated R. They are both under two hours. They both have likable and well-liked lead actors. It will be interesting to see if they split the vote at the box office since both may appeal to a similar audience.
Trailer for Burnt:

Trailer for Our Brand Is Crisis: