Good news, mainstream movie fans: There really is something for just about everyone at the Box Office this weekend. First, however, I must confess that I missed the screening of Sausage Party and doubt I'll get around to watching it anytime soon, unless someone wants to send me a Sausage link. Regardless, I suspect the movie is filled with enough raunchy adult animation and humor to entertain a certain demographic. I'll just leave it at that (for now), and move on to Pete's Dragon, Florence Foster Jenkins, and Hell or High Water…
The best new family film option is Pete's Dragon, a live-action reimagining of a 1977 Disney flick that I don't recall watching as a kid, even though it featured music and singing (i.e. how did I miss that one!?) I'm not exactly the target demo anymore for this type of movie, so I borrowed 12-year-old Aaron, 8-year-old Marisa, and their parents for an honest, independent evaluation of this Tarzan-esque meets dragon story. The general consensus: They liked it!
Here's the gist: A little boy named Pete is left to fend for himself after his parents are killed in a car crash in a remote section of woods while they are out on a family adventure (don't worry, as car crashes and Disney orphan-making scenes go, the tragic turn of events is handled relatively quickly and gently). Pete (Oakes Fegley) is basically rescued, raised and protected for several years by a (CGI) giant green dragon that he names Elliot, and together, the duo survive and thrive in the woods while remaining invisible to the outside world — until a controversial logging operation reveals Pete, and eventually his dragon, to some understandably shocked townsfolk. For years, the locals had heard stories about a dragon in the woods, as told by a woodcarver (Robert Redford) whose skeptical daughter Grace (Bryce Dallas Howard) grew up to be a forest ranger. Ultimately, Pete's Dragon is about friendship, faith, imagination, family, and environmentalism. Aaron's assessment: "I liked the story, but it could have used more action." (I tend to agree). Marisa's impressions: "It was sad in parts but happy in the end. The dragon looked scary at first. Overall, the movie was amazing." I might not go so far as to call it amazing, but I'm glad she thought so. Pete's Dragon really is for the 8-12 year olds, though adults who tag along may need a tissue or two. Spare the young kids. A little girl, about four years old, wailed through the whole thing. Pete's Dragon is PG, so exercise that parental guidance wisely. (trailer below)
The best movie out there for the arthouse or indie-meets-mainstream crowd is undoubtedly Florence Foster Jenkins, starring the incomparable Meryl Streep as a patron of the arts who fancies herself an opera singer though she can't carry a tune. Her arias are downright painful to listen to, but nobody has the heart – or the guts – to tell her so for a variety of reasons that relate to a combination of loyalty, love, friendship, and greed. The movie is based on the true story of tone-deaf American socialite Florence Foster Jenkins who lived from 1868-1944 and infamously cut an album and performed at Carnegie Hall. Let's just say that her passion and enthusiasm, and money, went a long way in securing her fan base. She's a sympathetic character to be sure. In the film, she's battling syphilis contracted from her first husband; she has a platonic relationship with her husband, St Clair Bayfield, a failed Shakespearean thespian who has a mistress on the side; and she genuinely loves music. Hugh Grant truly shines as Bayfield. He is Florence's fierce protector, the guy who humors her ambitions and guards her against potential "mockers and scoffers", including a persistent music critic from the New York Post. The occasional scene stealer in FFJ is Simon Helberg as Cosme McMoon, an odd but talented pianist tasked with accompanying Florence. His expressions are priceless as he discovers that this heiress can't actually sing. Florence Foster Jenkins is a heartwarming and heartbreaking film, much more accessible to the mainstream audience than a quirky 2015 French film called Marguerite that was inspired by the same story. If you love opera and foreign films, you may want to seek that one out at some point for a most interesting double feature. (FJJ trailer below)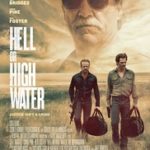 And now for something completely different – and surprisingly good: Hell or High Water. It's a poignant and entertaining modern western that takes place in Texas and Oklahoma. It's a bit of everything – drama, action, dark comedy. A stellar cast totally sells this one. It's about two West Texas brothers, Toby and Tanner (Chris Pine and Ben Foster) who set out to rob several branches of the bank that is foreclosing on their family land. Toby is motivated by a desire to provide a better life for his kids; Tanner is an ex-con who simply likes to live dangerously. Together, they aren't exactly your typical bank robbers, and that shows, especially when the brothers encounter a bank in Texas where the locals take their concealed-weapons laws very seriously. The result is a scene that is funny, scary, and certainly timely. Meantime, on the brothers' trail: a foul-mouthed Texas Ranger (Jeff Bridges) on the brink of retirement, and his half-Indian, half-Mexican partner (Gil Birmingham). Like the brothers, the relationship of the law partners is complicated. Watching Hell or High Water is kind of like sitting on the sidelines of a slow-speed chase with cops and robbers. The ultimate showdown is compelling. For the faint of heart, there are a few shocking moments of violence, but for the most part, they are fleeting and service the story well. I liked Hell or High Water a heck of a lot more than No Country for Old Men, though the two films have a somewhat similar vibe. If you're looking for good story, good acting, multi-layered characters, and a dash of wit, then Hell or High Water is the way to go.
Florence Foster Jenkins trailer:

Pete's Dragon trailer:

2 Comments
Leave a comment