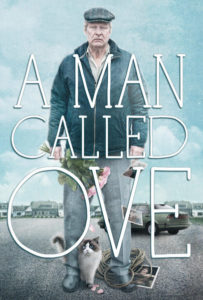 This adaptation of Fredrik Backman's bestselling novel is one of my favorite films of the year. Written and directed by Hannes Holm, it's 'a Swedish curmudgeon finds his humanity' story that could easily have been sappy and cliched, but balances the mean and the sweet just right for a totally enjoyable ride.
59-year-old Ove (Rolf Lassgård, After the Wedding) is the main character. He is recently widowed, has just lost his life-long job, and is in the middle of committing suicide when new neighbors move in across the street and run over his mailbox. Ove is known around the development for being a strict enforcer of the many rules that keep the place quiet and safe. No driving inside the gates. No bikes. No dogs peeing on the road. And on and on. So he thinks that he's going to show these new neighbors a thing or two before he ends it. But the very pregnant Persian wife Parvaneh (Bahar Pars) gives as good as she gets and becomes his one friend. It happens in small steps, as he continues his suicide attempts only to be interrupted again and again.
And through it all we see his life in flashback– his fairly happy childhood, and then meeting the love of his life, Sonya, and their life together.
There are some extremely funny moments in A Man Called Ove, as well as some very poignant scenes. The beauty of the script is that you see a whole person, not just the curmudgeon he became. It's very sweet love story, but also a beautiful friendship tale. Ove and Parvaneh have great chemistry. I highly recommend it to audiences that like foreign films. It will be the Swedish Oscar entry, so get ahead of the pack and see it!!