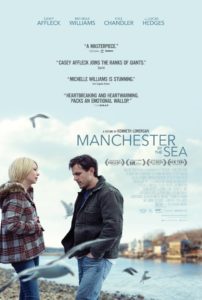 Thanksgiving may not seem like the best time to see a movie about grief, but Manchester by the Sea is so much more. It's a family drama that tackles issues of loss, healing, and hurt in a smart, poignant, and often humorous way. And it puts Casey Affleck firmly in the running for a best actor nomination, and possibly even the win. Affleck plays Lee Chandler, a man haunted by his past, who returns to his hometown of Manchester, Massachusetts to take care of family business after his older brother Joe (Kyle Chandler) dies somewhat suddenly of a heart ailment. Lee never expected that the 'family business' would include guardianship of his teenage nephew, Patrick (Lucas Hedges). But it does.
The film opens with an introduction to Lee (Affleck) doing odd jobs as a handyman in a working-class neighborhood in metropolitan Boston. He lives alone in a sparse studio apartment and doesn't seem all that keen on interacting with people, unless it involves provoking a bar fight. So when he's forced to step up, and step out of his bubble of isolation, he's obviously uncomfortable in the role. The reasons for that unfold through a series of flashbacks that reveal what led to Lee's separation from his wife (Michelle Williams) and the tight-knit community where he was born and raised. It's a heart-breaking tale that interweaves the past with Lee's present struggles to do right by Patrick, who is juggling grief, high school, two girlfriends, hockey, and a band, as well as all the angst and anxiety that goes along with being a teenager.
Manchester by the Sea is a very affecting movie. Affleck's awards-worthy performance is made even better by the chops of his stellar co-stars in small, but powerful supporting roles that tug at the heartstrings. Fortunately, the drama is peppered with enough wry humor to prevent folks like me from totally falling into the emotional abyss.
The only mis-step (in my opinion) was writer/director Kenneth Lonergan (Margaret, You Can Count on Me) casting his longtime friend and collaborator Matthew Broderick as Patrick's evangelical step-father. His performance is perfectly fine, but his sudden appearance on-screen in this bit part took me out of the movie momentarily (and based on the chuckles in the crowd, I wasn't alone in that). But that's nit-picking. Manchester by the Sea is a very good movie that takes a few unexpected and thought-provoking turns that could satisfy any cravings for a hearty family drama over the Thanksgiving holiday.